Hi everyone,
Outfits of the Week are back for Midterm Break and I decided that this time I would create "decade inspired" looks mingled in with my own style. This is also because each day I was creating decades inspired looks for upcoming tutorials which you'll all see in the next few weeks. Also my Mam took some of these photo's
(Thank you Mam - I love you <3 !)
and there's alot of photo's squashed in so don't forget to
click on them to view them in more detail
.
MONDAY
Penneys collared dress | Dunnes Stores cardigan | Handbag & tights both F&F | Brown leather bow hairband | Pattered brogues from local shoe shop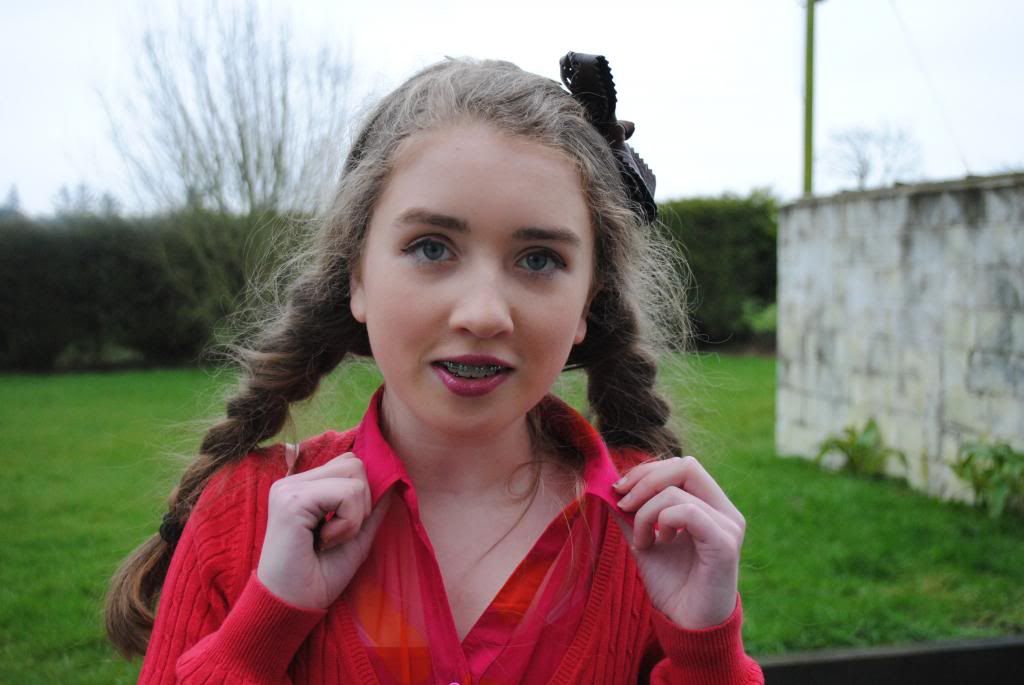 Today's outfit is 60's inspired and I've decided to go for the preppy 'peter pan collared' dress and cute shoes look - Very 60's.
I am in LOVE with my new patterned brogues which I bought a few weeks ago on sale for only €20 which was a very good bargain ! I thought they'd add a preppier look to the outfit along with the collared dress and cardigan. I managed to find some coordination to plait my hair last night to curl my hair for a very 60's rollers in hair look, but then I discovered my plaits would look very preppy with this look so heck I kept them in ! See you's tomorrow xx
TUESDAY
Hi everyone, You may guess that today's outfit was 70's inspired and I was going for the sixties-early seventies hippy-ish look. I adored this top that used to be my Mam's
(not from the 70's btw !)
and my floral maxi dress together especially with my beautiful feathered hairband and plaited hair too. I also decided to be productive today and add a few bracelets too. Happy Pancake Day !
WEDNESDAY
Hi everyone, Today I was 80's / 90's grunge style because I really don't like the whole neon flamboyant eighty's look, but there is a comparison between the grunge style of the ninety's and the doc boots and band tees of the eighty's so there was grunge in both decades. I don't really own a band or slogan tee or something so I wore my slogan-y jumper and chequered burgundy shorts with my red leopard print doc boots for a very grungy look and I didn't feel like backcombing my hair or anything so it's just in a plait and I also wore a different perfume today - So ... ? Fab which is a gorgeous fruity but glam scent. And also, It was Ash Wednesday and that's why I've my ashes on my head.
Hey everyone,
Hi everyone, Today I tried to be noughties, 00's, Whatever you like to name the decade. I didn't do a tutorial for this because I was only wearing a dab of concealer and brush over of powder because I didn't go to much places. In the noughtie's everyone was fascinated by hoodies, Leggings and the whole tomboy look which Avril Lavigne pulled off and yea this is as far as my attempt goes. Also I've began obsessing over my Penneys bracelets again which I got last year or the year before in the Y.D section . They're super cute.
So they were my outfits if the week and I've been working really hard on this post all week so leave a comment telling me which outfit is your favourite !
See you's next week,
Grace x