Hi everyone !
So today I am posting a collaboration post and that is an Easter collab with Gaby, Jane & Kate of Don't Need Makeup To Cover Up, Dorky Fizzy & Quirky Stuff and The Fashion Chain.
Now the plan was that we're all posting two different ideas to wear over the Easter holidays on four different days so for example Jane posted hair and nails on Tuesday and today I will be posting makeup and an outfit.
So like I said this is a collab with
Don't Need Makeup To Cover Up, Dorky Fizzy & Quirky Stuff and The Fashion Chain
. They're all Irish teen bloggers I love their blogs so check them out because Kate and Jane have already posted Tuesday and yesterday and then Gaby posts tomorrow and we've spent almost two weeks planning this collab and I'll leave the links to their blogs at the end of this blogpost.
Ok so like I said we sort of picked a theme and a sub-theme and I picked makeup and then a little outfit add on for Easter as I've already done spring outfits. And also as I said above, These were both done on separate weeks in fact so makeup and clothes are different and I will start with the tutorial.
My tutorial is an alternative spring look and it brightens up your face and opens your eyes !
You'll need : A bright red lipstick
A mossy green eyeshadow
White eyepencil
Fine eyeliner pen
Lengthening mascara
1. Begin by moisturising and applying light makeup such as BB cream, Concealer and pressed powder.
2. Line a fine line of eyeliner pen or liquid along your lash line, Winging off if you chose to. I used the thin side of the Essence 2in1 eyeliner pen.
3.
Use a green that isn't very bright or flamboyant and is neutral on your eyelids to give a pop of colour on your eyes. I'd suggest a mossy green such as the Essence mono eyeshadow in
60 Kermit Says Hello
which I used although if these type of greens don't suit your eyes you can go for a light brown or a different neutral based colour.
4. Use a white eye pencil under your eyes to make them appear brighter and wider. You can apply this to your waterline if you want but that makes me feel icky so I prefer to apply under my lashes. Smudge the applied eye pencil for a softer look and so it doesn't take concentration off your lips. I used an Essence white eye pencil for this.
5. Before you apply lip colour, Be sure to apply lip balm to soften your lips. Then apply a 'vampy' bright red lipstick to your lips. Pat a tissue on your lips to create a matte look. This look is concentrated on the lip colour. I used the 17 Lasting Fix lipstick in
Showcase
.
This is the finished look so if any of you's try out this look tell me on Facebook or Instagram !
Next for an outfit, I wanted to create a girly look with a piece of clothing with a print that looked like candy or something. I used sections of my hair to milk braid them across the back creating a 60's look and I wore red and pink lipsticks with pink lipgloss for the same effect. I also as usual turned my cardigan around over my dress and then shoved my beautiful chunky wooden and pink necklace over it.
Wearing :
White cardigan, Dunnes Stores swirl patterned dress, Purple flower clip, Penneys chunky necklace, Dunnes Stores floral doc boots.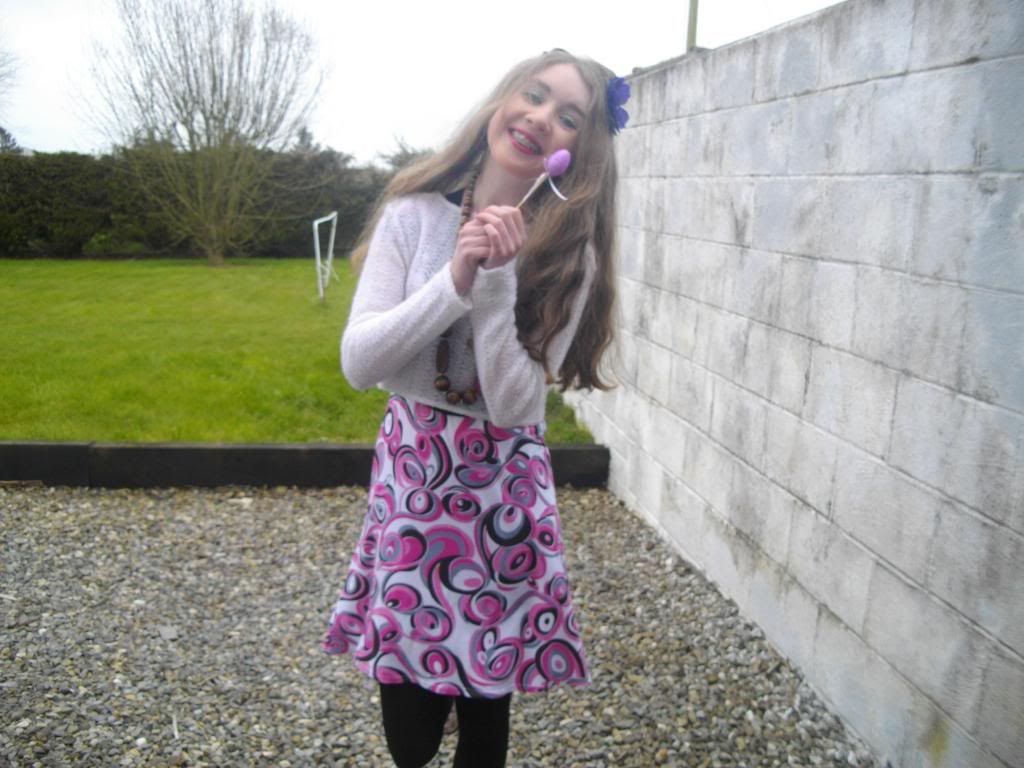 I hope you enjoyed this post and if you want me to do more idea posts like this tell me below,
Also check out the other bloggers' who are doing this collab too !
Jane's blog ~
http://dorkyfizzyandquirkystuff.blogspot.ie/
Kate's blog ~
http://thefashionchain.blogspot.ie/
Gaby's blog ~
http://dontneedmakeutocoverup.blogspot.ie/
Grace x
FACEBOOK
|
EMAIL
|
INSTAGRAM