Hi everyone !
Today I'm doing a Spring Lookbook and makeup post.
It took me ages to take the photo's because I didn't know whether or not my Mam's Nikon was out of focus or not and then it died. Yay. And the lighting was cat too. It will take me even longer to write this.
Complaining out of the way, These are two spring outfits and some spring makeup. There was suppose to be three, but like I said, Mam's camera died, but I did use my own camera to take the photo's of the makeup.
The outfits you could wear at a St. Patrick's Parade, Easter Sunday or anywhere I suppose during the duration of spring. I'm only going to do a brief paragraph on the makeup because I am doing an Easter makeup tutorials post next week or so and this will be one of the tutorials. By the way, If you want to see an ancient
(if a year old counts.)
Easter makeup tutorial which is very cringey, I will leave the link at the bottom for you to read ;).
Also, I've tights on in both of these looks because I live in Ireland and we have very cold and wet springs to the point we got very bad snow yesterdays so if you're lucky enough to have beautiful spring weather you can wear these outfits minus the tights !
So lets get on with the outfits.
OUTFIT #1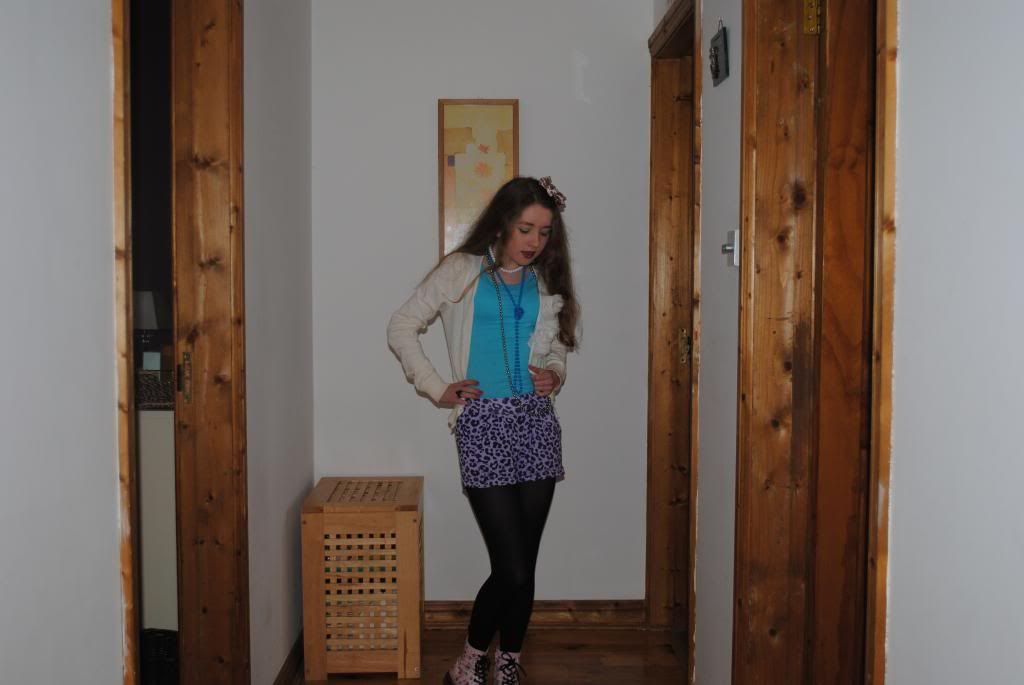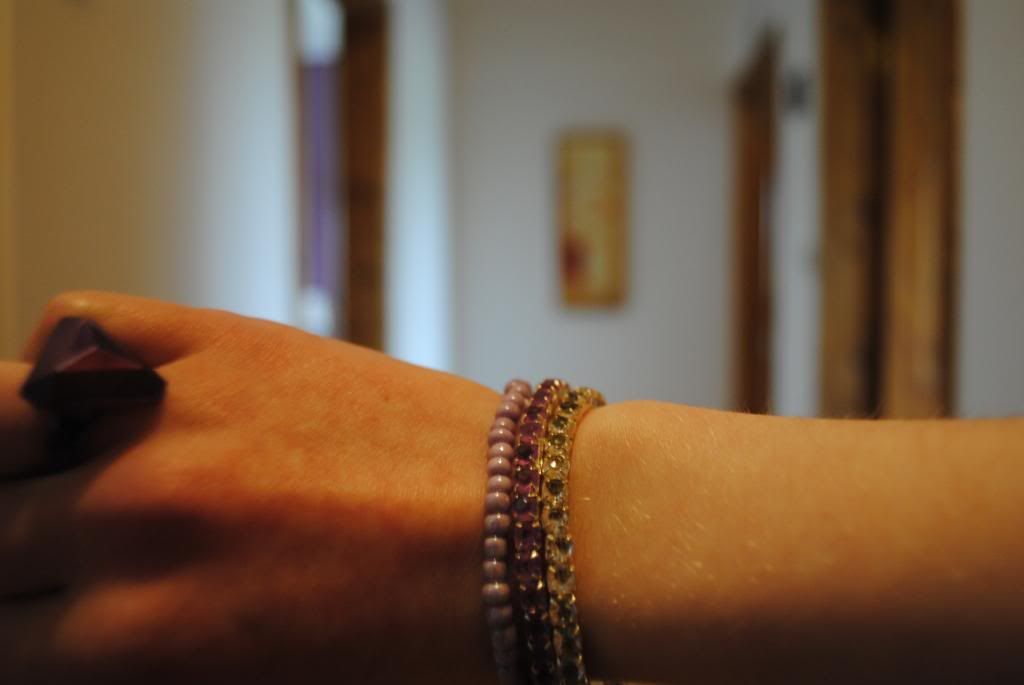 Savida @ Dunnes Stores ivory cardigan | H&M blue tank top | H&M purple leopard print shorts | Tights | Champagne coloured flower clip | Dunnes Stores floral doc boots | All jewellery unknown sorry
My first outfit can be deemed as causal or semi-formal. It consists of an ivory cardigan, Blue tank top, Purple leopard print shorts and floral doc boots so you could wear this type of outfit if you were going to an 'occasion' with your friends
(i.e. A birthday, Day out, etc. .)
and you wanted to dress up a bit but still stay semi-casual. For this outfit I've tried to go with the pastel on bold colour trend which is quite popular at the moment.
OUTFIT #2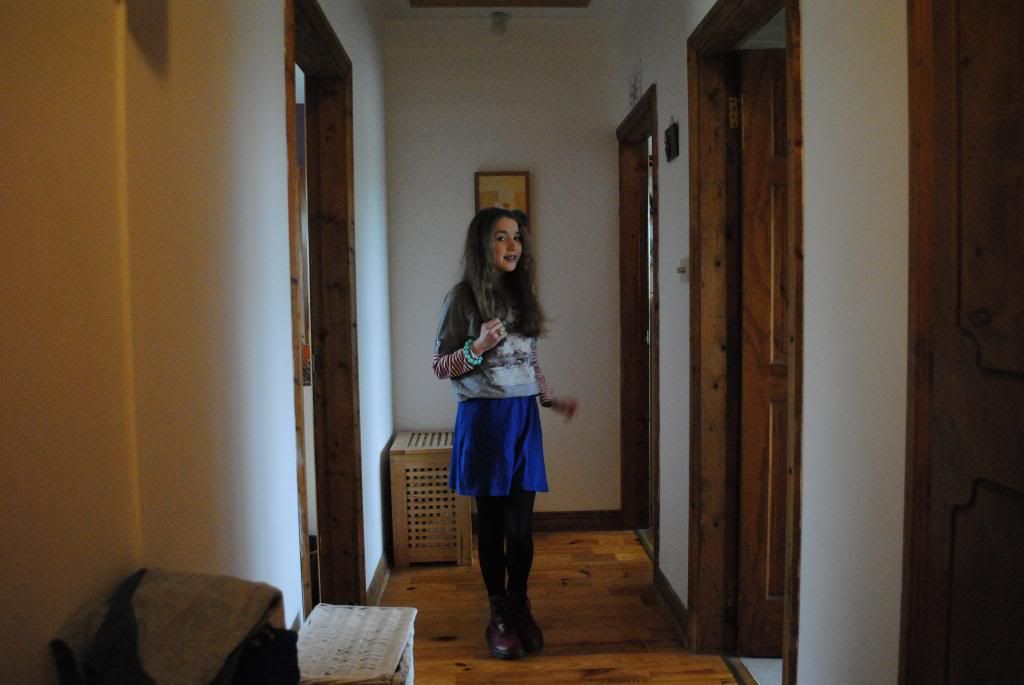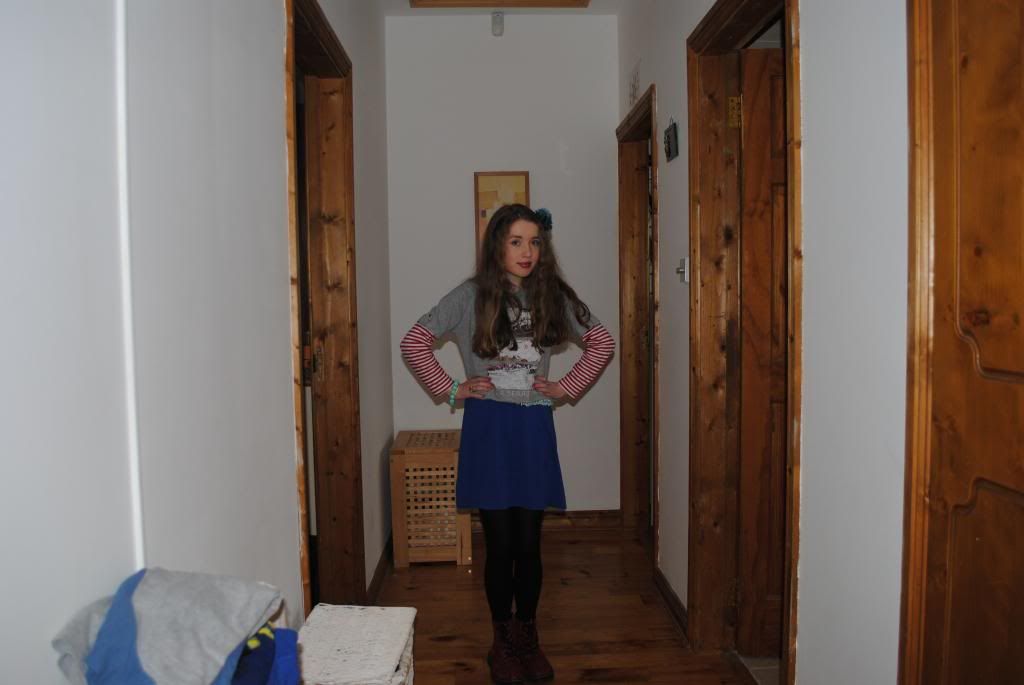 H&M blue jersey dress | Penneys slogan jumper | Tights | Turquoise rose hairband | Dunnes Stores red leopard print doc boots | Again sorry that all the arm candy is unknown
My second outfit you've seen before when I wore it for a non-uniform day and this jersey dress and jumper put together with red leopard print doc boots would be quite semi-formal to full-on formal whatever way your perceive this for most people although you's know by now that I'd wear this outfit down to the shops and have before ! I think this style of outfit is lovely if you've extended family coming over or if you're going out for dinner with family and don't want to dress up too much. You could also wear an outfit like this on Easter Sunday which I'm actually doing this year !
SPRING MAKEUP PREVIEW
Essence Quattro Palette in 07 Party Animal | Essence lipstick in Sparkling Miracle | Essence Cherry Blossom Girl 2in1 eyeliner pen in 01 Made In Japan | Essence blue kohl pencil
Next week I'll be posting spring makeup tutorials so check in this day next week.
Here's one of them which is quite similar to my Easter makeup tutorial from last year.
Thanks for reading,
Grace x
Last year's horrifying Easter makeup tutorial All together now - "Oh deary me" you'll understand when you read it oh my god http://daintysprinkles.blogspot.ie/2012/04/easter-sunday-spring-make-up-not.html
FACEBOOK

|

EMAIL

|

LAST POST