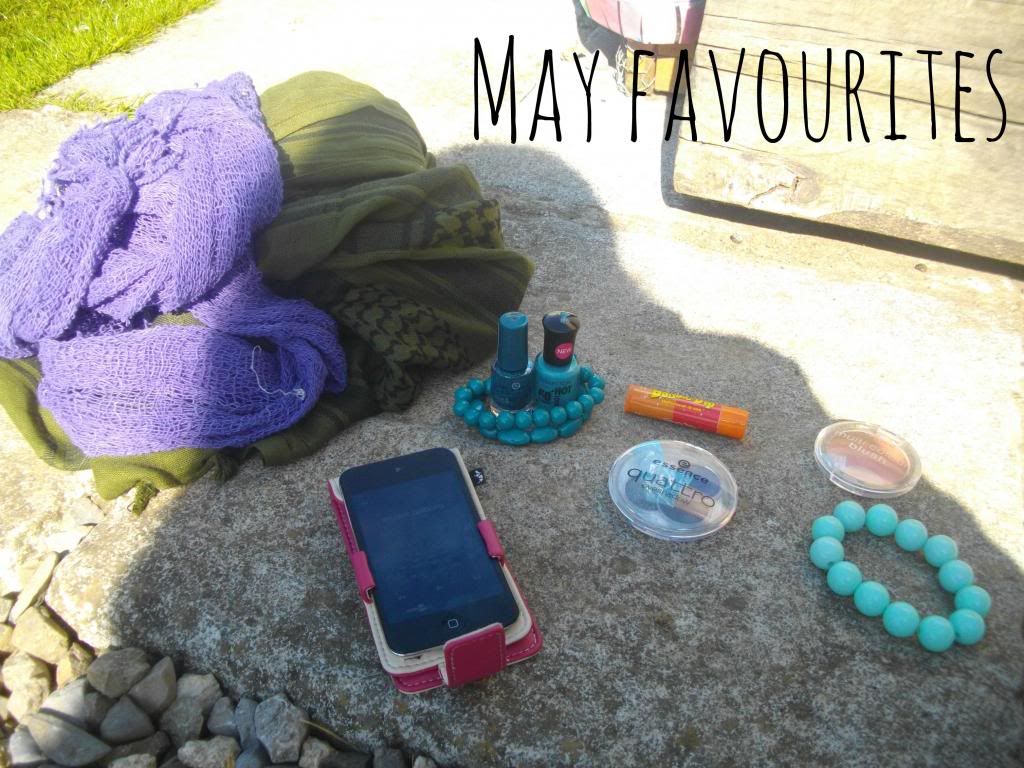 Hi everyone,
Today I'm going to be talking about my May Favourites but first of all I just wanted to give a quick heads up in saying that this is my last blogpost and video for the next two weeks. This week I have my summer exams so I will obviously have no time to blog and then on Friday I get my summer holidays but I'll have no access to a laptop for an entire week. I will have my iPod though so you can follow me on Instagram or like Dainty Sprinkles on Facebook which I'll be on all week. But don't worry you'll be hearing from me so much over the next three months you'll be sick of me by the end of August !
So yesterday I filmed a May Favourites video for my YouTube channel and yet again it won't show up on this blogpost so it's only photo's here today sorry but all my links are at the end so lets begin with the favourites.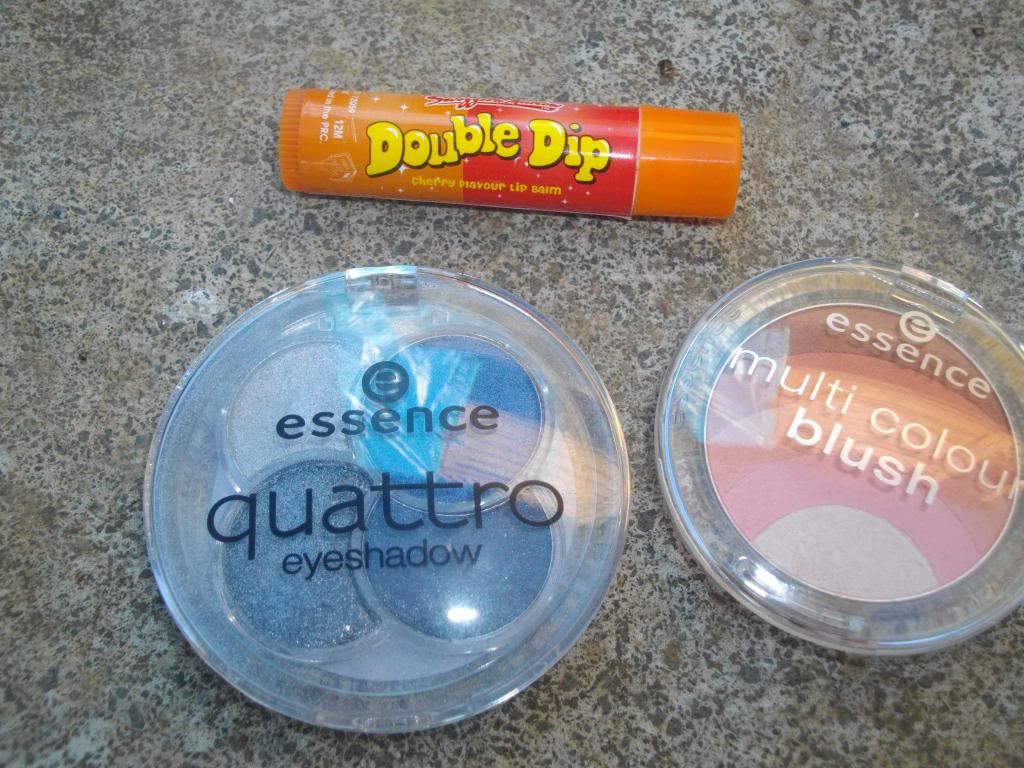 Clockwise : Double Dip lipbalm, Essence Multi Colour Blush, Essence Quattro Palette
Double Dip lipbalm ~
Penneys
(Primark in Ireland.)
are doing retro sweets inspired lipbalms at the moment and I didn't really like the other sweets there so I chose the Double Dip one and even though you can't smell it at first or atleast I couldn't, After you use it a few times it smells so good and it is so moisturising especially under lipstick it makes your lips really even and soft so that's something I'll be wearing all summer.
Essence Multi Colour Blush in 10 How Cute is that ~ I've had this blusher for ages but I've never actually used it until this month when I began experimenting with contouring. The best thing about this blusher is the option of the different shades you can use and I tend to use the bottom three which are the fairest and less clownish. You could also use the top two as a bronzer coming into the summer season so you're technically getting two products in one & as far as I know it's only €3.50 so it's cheap and cheerful too !
Essence Quattro Palette in 09 Denim 4.0 ~ I've abandoned this eyeshadow palette for so long but recently I've began wearing it again and I usually apply the top right blue all over and then blend the top left silver from my inner corner outwards. I love this type of palette because it's so versatile in the sense that you can wear it in many ways. Last summer I did a smokey eye tutorial with this so tell me if you want me to do an updated one this summer.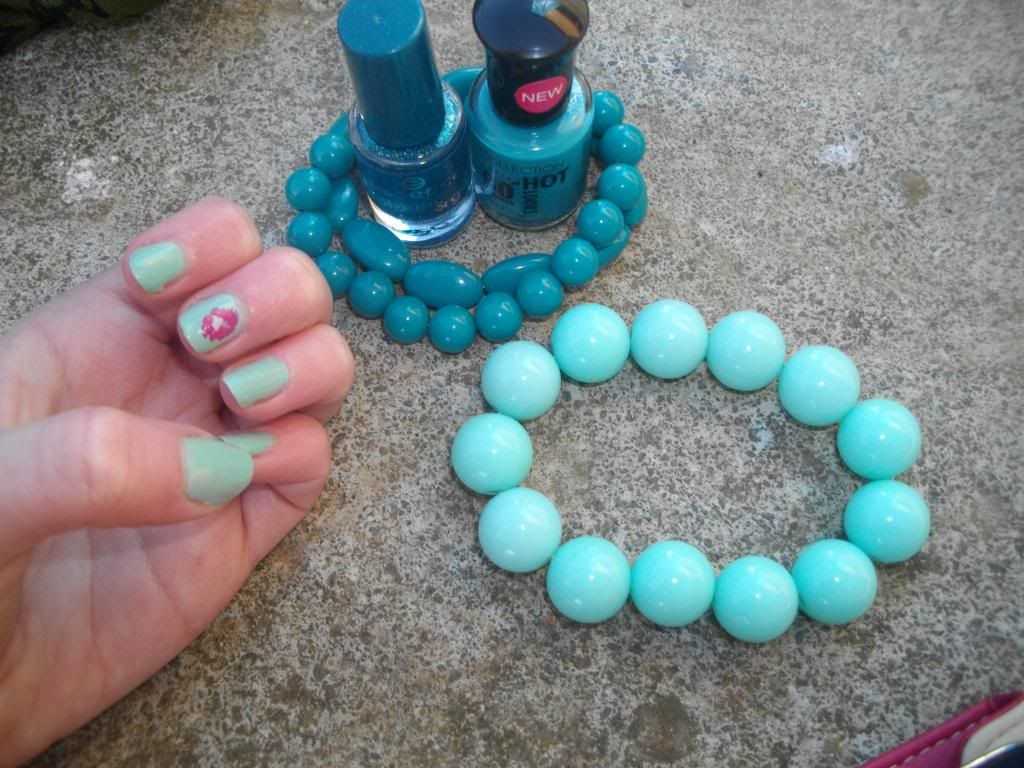 So recently I've been
matching my nails with my jewellery
. I've been painting my nails in block colours more rather than attempting nail art and I think they've looked a bit neater and popped out more. A few weeks ago I wore Collection nail polish in 56 Electric Dreams with these Penneys bracelets which I showed in an accessorising video and then since Friday I've been wearing an NYC mint green nail polish with a mint green bracelet I've had for years. I'll probably be matching again this week and I'll Instagram a photo of it if I do.
I don't know about you's but I wear
scarves
more during summer than I do in winter. I wear lighter scarves mostly and they look so pretty over any top or dress. I get really bad spots, Acne, Whatever you call it down my chest and back so I'm quite self-conscious when I wear tops that aren't high necked which is why I like to wear a cute scarf over it.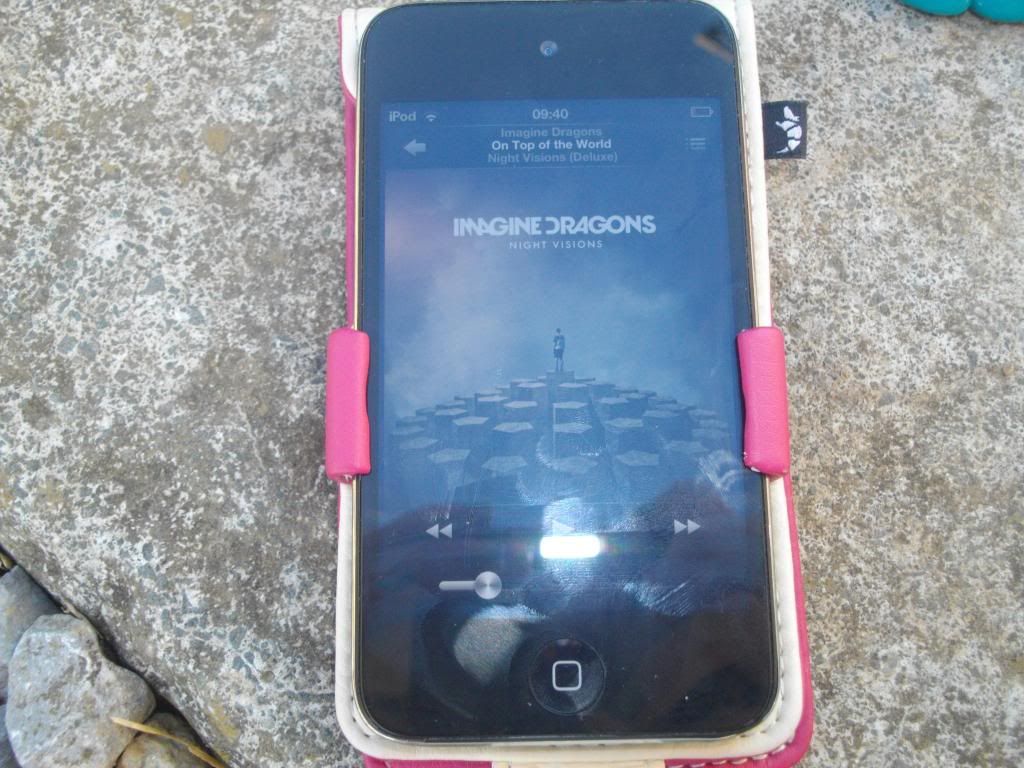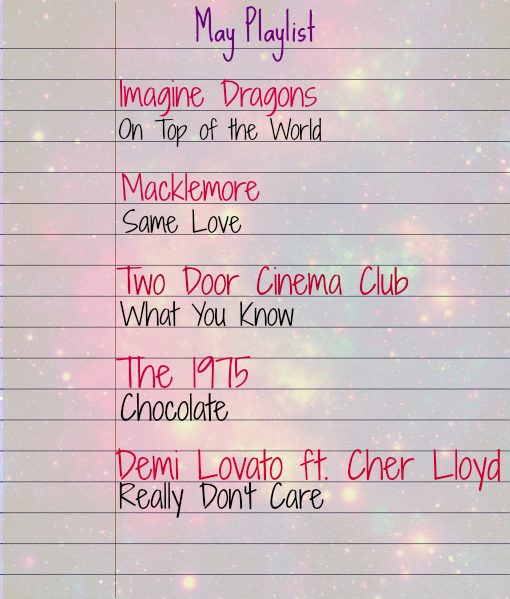 This month I've been loving Imagine Dragons' music which is why
On Top of the World
is Song of the Month. I've also been listening to Two Door Cinema Club, Macklemore, Demi Lovato, The usual music I listen to.
So they're all my favourites and unfortunately Blogspot is refusing to let me add in my May Favourites YouTube video so here's the link to it
In the meantime if anyone could give me any advice on how to solve this problem I'm having with add my videos to my blogposts it would be amazing thanks.
So as I said earlier this is my last blogpost for the next ten days atleast and my summer exams start tomorrow which both suck so I wish everyone doing any exams luck and I'll be talking to you's at the end of the first week of June !
See you's !
Grace x
FACEBOOK
|
EMAIL
|
INSTAGRAM
|
YOUTUBE