Handbag used to be my Aunt's | Dunnes dress | Penneys jumper | Dunnes floral doc boots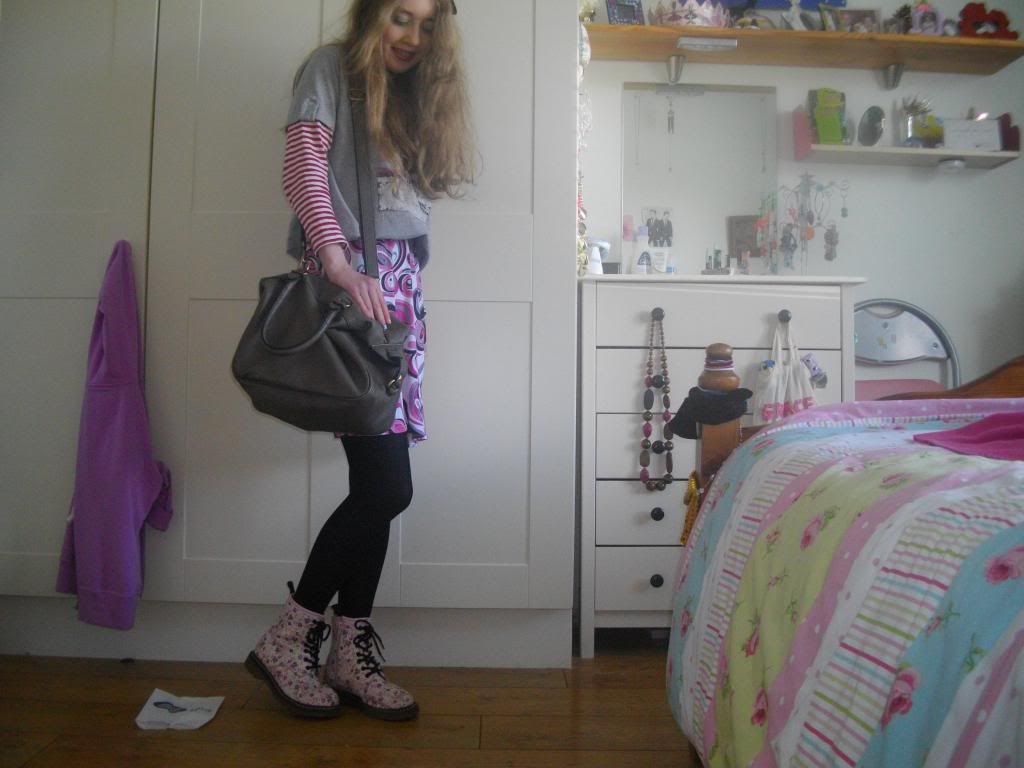 Hey everyone !
First of all,
OMIGOD OMIGOD OMIGOD
! Back almost two weeks ago I sent a picture of my ombré dyed hair into TeenVogue.com and omigod guess what ! I came home today went on my laptop for the first time since Monday to find that TeenVogue.com had put my look as their 'Beauty Look of the Day". As you can imagine, I was screaming my head off to be fairly honest and I still can't believe it and aaaah I'm so happy and don't know what to say aah !
Here's the link ~
http://www.teenvogue.com/beauty/look-of-the-day/2013-05/grace-k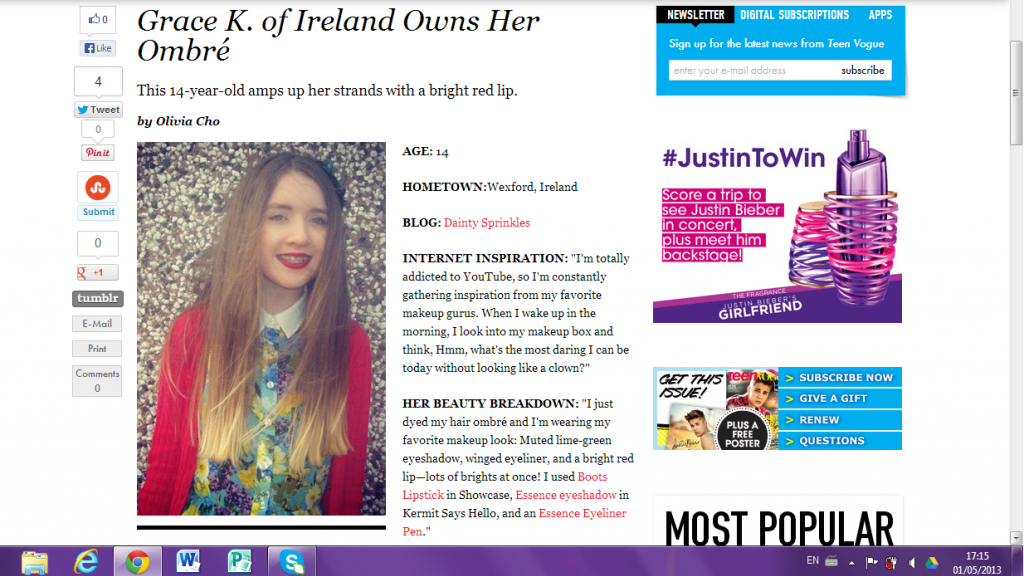 I didn't really have any recent 'back up' outfit photo's except this photo of me showing off
(hah.)
the handbag my aunt gave me over Easter because she didn't like it anymore. This photo is from the last week of Easter holidays which is pretty obvious because my hair is all my natural colour in it.
Over Easter I had a bit of an obsession with wearing pink and extreme pink or floral patterned clothes which is why I'm wearing this pink swirly dress with pink floral doc boots - A bit of a pink overload if you ask me, but I toned it down with my favourite slouchy jumper from Penneys and this lovely grey shoulder bag my aunt gave to me because she didn't like the style of it and I was looking for a shoulder bag.
I'm still excited and doing back flips in my head because obviously you's all know it's both physically and mentally impossible to do any kind of gymnastics although I desperately wish I was able to so it would be entertaining for everyone around me to witness me attempt a back flip but not so entertaining when they rush me off to hospital and then my screams when I need stitches in a split head. Note that never happened before and will not happen and I've just realised I'm blogging about pink clothes on a Wednesday !
"Stop getting off topic Grace." Well I meant to say that I've begun studying for my summer exams tonight and they'll be at the end of May so between now and then don't expect too many blogposts with the exception I have a three day week next week whooooo ! because I've the bank holiday off on Monday and my brother makes his Conformation on Friday so I've that day off too !
Ok I'm off to celebrate with a scone, Herbal tea
(yet another obsession.)
and a history project - Yay.
See you's !
Grace x