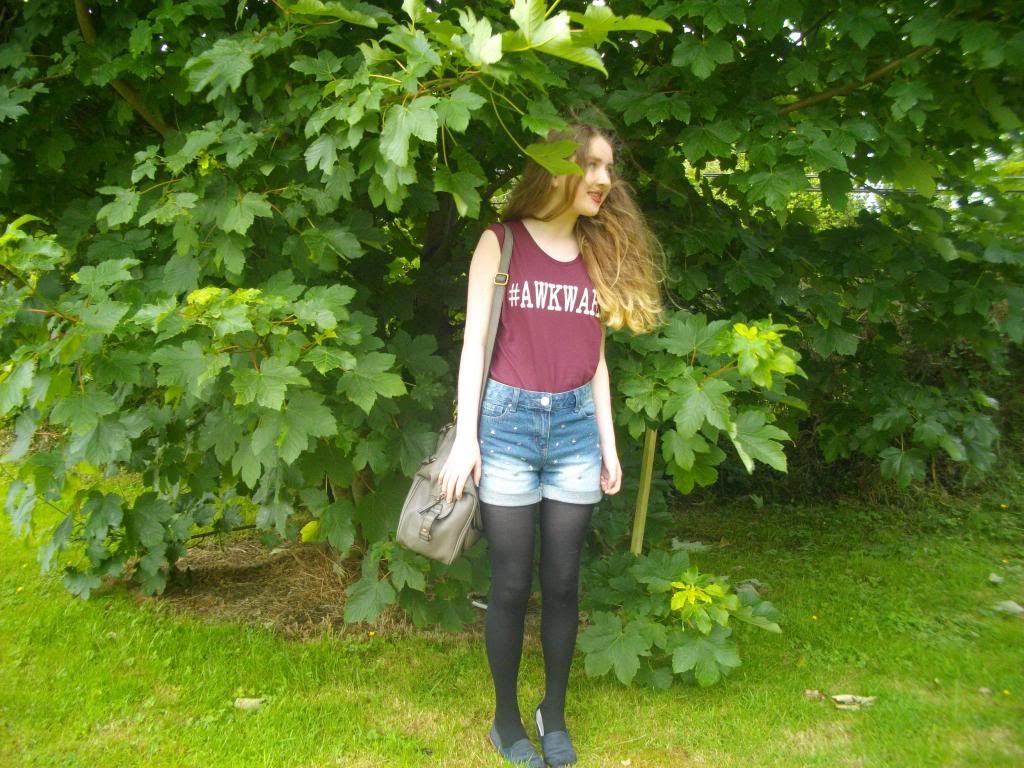 New Look tank top | Dunnes Stores denim shorts | My aunt gave me the handbag | Dunnes loafers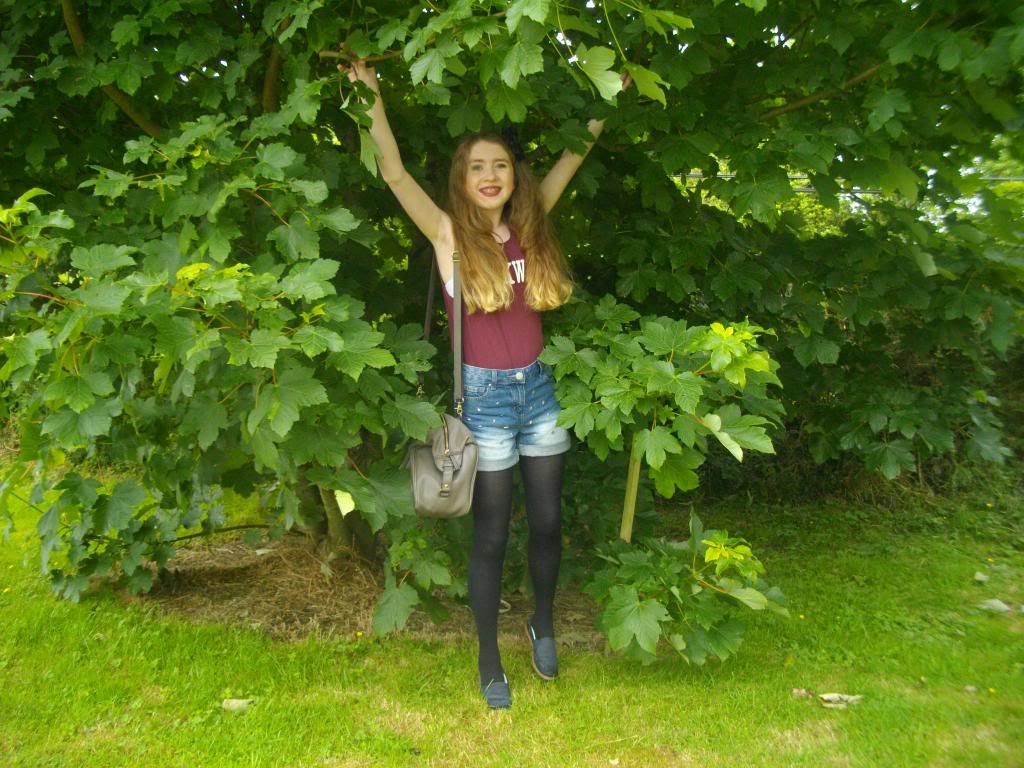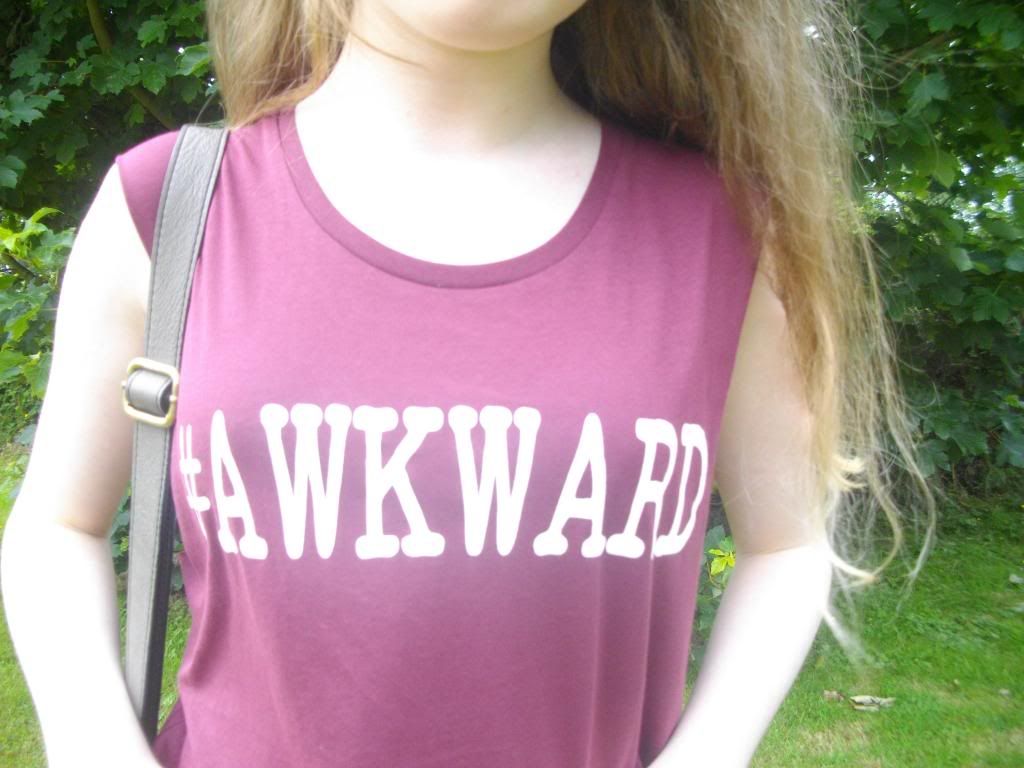 (Above photo of palette not my photo. Found on Google Images.)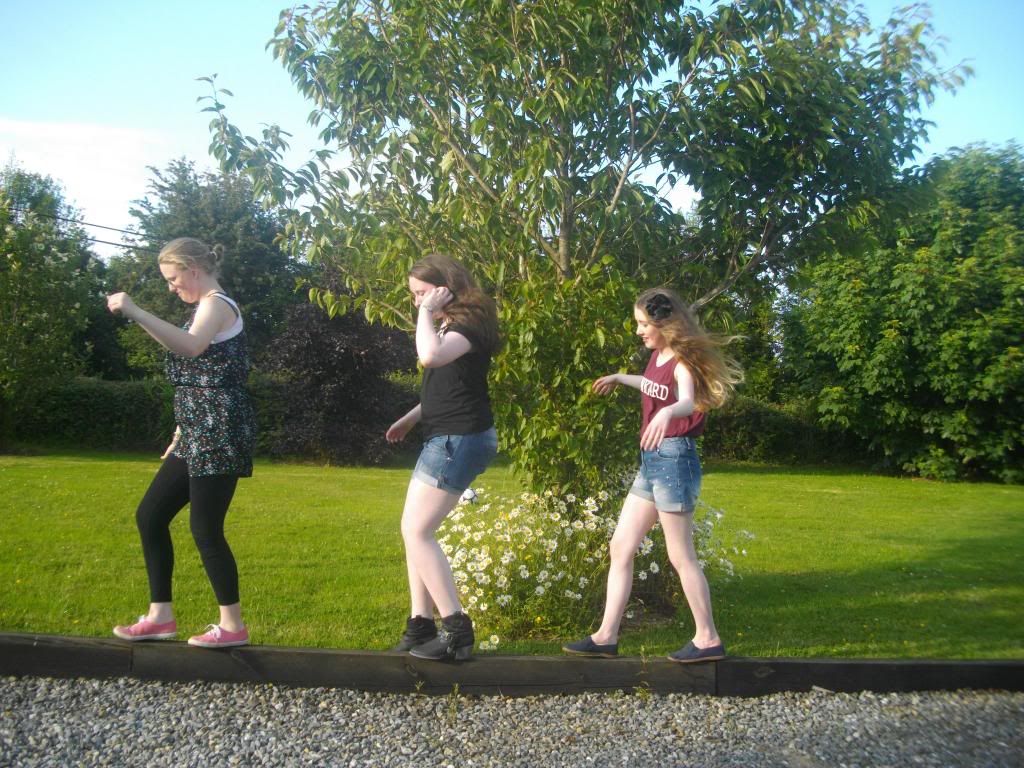 Hi everyone,
Yesterday I was in town with my friends and then they slept over in my house and they wanted to use my tripod so we brought it outside. They said I could put a 'normal' one on my blog and the photo above is the only 'normal' one. The tripod is more still than us and my tripod likes to mess about alot.
I felt very Tumblr-y yesterday in my outfit and I'm not sure if that's a good or bad thing. I wore my '#AWKWARD' tank top from New Look with my favourite star studded denim shorts from Dunnes. It was very mild during the afternoon and then after 7pm the temperatures all of a sudden rocketed and the heat and sunshine reared their head at last which meant I could say good bye to my tights for the evening. The negative side of wearing denim shorts was that it would've looked quite odd if I wore my denim jacket over it so I ended up wearing a hoodie.
I was in my nanny's up in Dublin from Wednesday until Friday and of course had to visit the shopping centre because the 'shopping centre' where I live shouldn't even be called a shopping centre its that small. While I was roaming around Penneys I realised they had an Essence stand that was three times bigger than the ones where I live. It was heaven there was so much makeup I'd been looking for forever but could never find it so I bought an eyeshadow brush and when I'm back up there during July I'll have to have saved my money up so I can get some more. I also got an NYC Individual Eyes palette in the shade "940U Central Park" which is meant for green eyes but never mind because the others weren't neutral enough to wear to school. I saw this palette talked about in
Gaby's videos
before and it does live up to the hype because it has an eye primer in it and all so I wore it yesterday. The colours in it are beautiful and easy to work with and it's only €2.50.
By the way everyone ! Today's the final day before Google Reader, GFC, etc. becomes extinct forever. I am secretly hoping nothing happens at all because I'll have nothing to remind me to read my favourite blogs anymore. Anyway make sure you're following Dainty Sprinkles on Bloglovin'
(The buttons on the right.)
but thats if you can even get the hang of it because I can't sorry.
Video up on my YouTube channel tomorrow ! This time I am determined to find the right lighting so I can do my makeup the best I can. I'm also determined to pluck the orangutan gorillas above my eyes.
Grace x