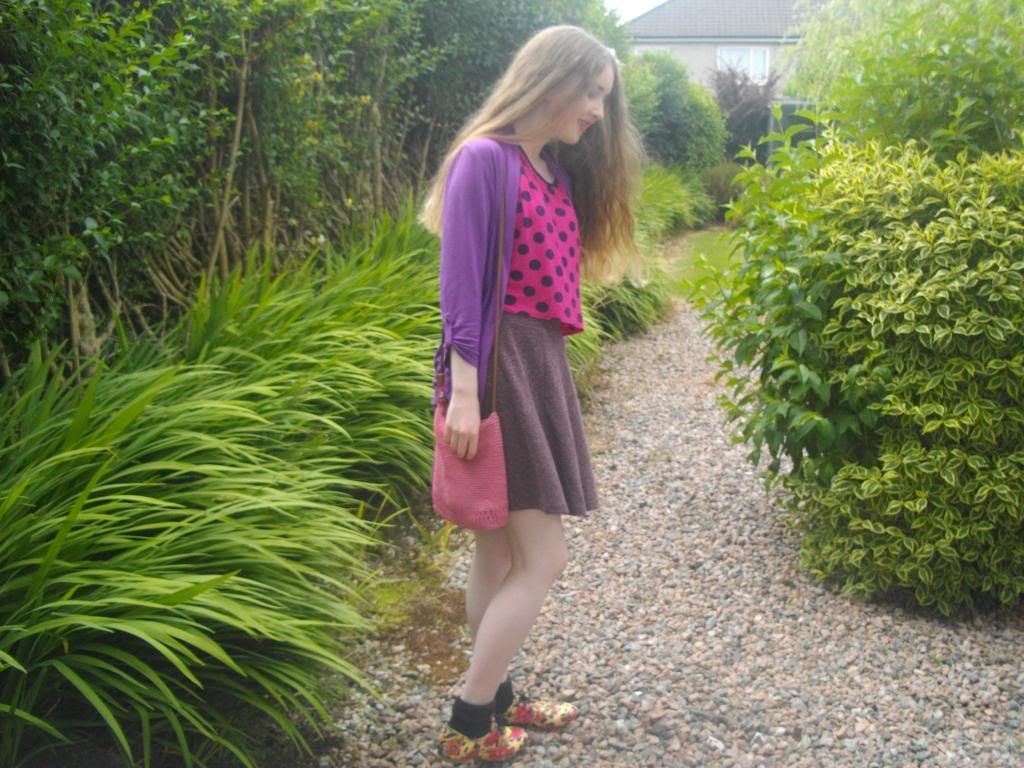 Bella Moda crop top | Topshop skirt | Penneys cardigan | Brogues from local shop | Handbag used to be my mam's
Hi everyone,
I feel like once I'm finished this blogpost I'll be back in the swing of things because I feel my blog has gone off topic since the end of May so from now on it's definitely back to mostly outfits and some makeup tutorials. My summer blogging schedule is still two-three times a week and when September comes we'll see what happens but for now I'll just keep pretending that school never existed !
So I also did a video on this outfit,
Click here for it
, I was in Dublin this week visiting Nanny, I came home today and I wore this outfit on Tuesday. Tuesday it began to warm up and of course now we're back into heatwave season so I wore a very light outfit for the simple reason that I wasn't feeling well and didn't want to be too warm and sweaty, Sweaty how pleasant ! This crop top is so light, It's quite cropped too and I'm so used to wearing it high necked over a dress but this particular day I wore it with the very light skirt which usually goes right to my knee so I wore it a bit higher in attempt so show as little of my stomach as possible. I also wore patterned brogues which are my favourites with black school socks, The usual.
For makeup I was wearing 17 Lasting Finish lipstick in Showcase which might as well be glued to my lips I wear it so much but hey when September comes around I'll only see it twice a week shut up about September while you're ahead Grace nobody gives a monkey. I was really lazy on Tuesday so I wore neutral makeup even though it took just as long as the greens and all usually do and I was using the NYC palette in Central Park. On the topic of makeup, I have an everyday makeup routine on my YouTube channel I uploaded a week ago so please tell me if I should do a blogpost on it thanks.
That is everything I think, I'll be back over the weekend probably with my everyday makeup routine if I can get it to link on Blogspot again please tell me if you'd like to see that here and also if you enjoyed this post.
See you's,
Grace x