Hi everyone !
Today I thought I'd share my Everyday Makeup Routine with yous.
I put up this video below two weeks ago but as I've mentioned before, Blogger has been messing about and the search engine here won't recognise my videos until like two weeks after they've uploaded so there's a delay in videos here, but you can see the video I uploaded today if you
click here
, I might do a blogpost on that next week and the week after that you's will be seeing my back to school tutorials !
So this is the video, You might want to watch it before or after I ramble on.
My makeup during summer is usually very colourful cos y'know got to make the most out of colour before I go back to school and the only colour I can wear is a teeny bit on my lips and nails and that's even pushing it.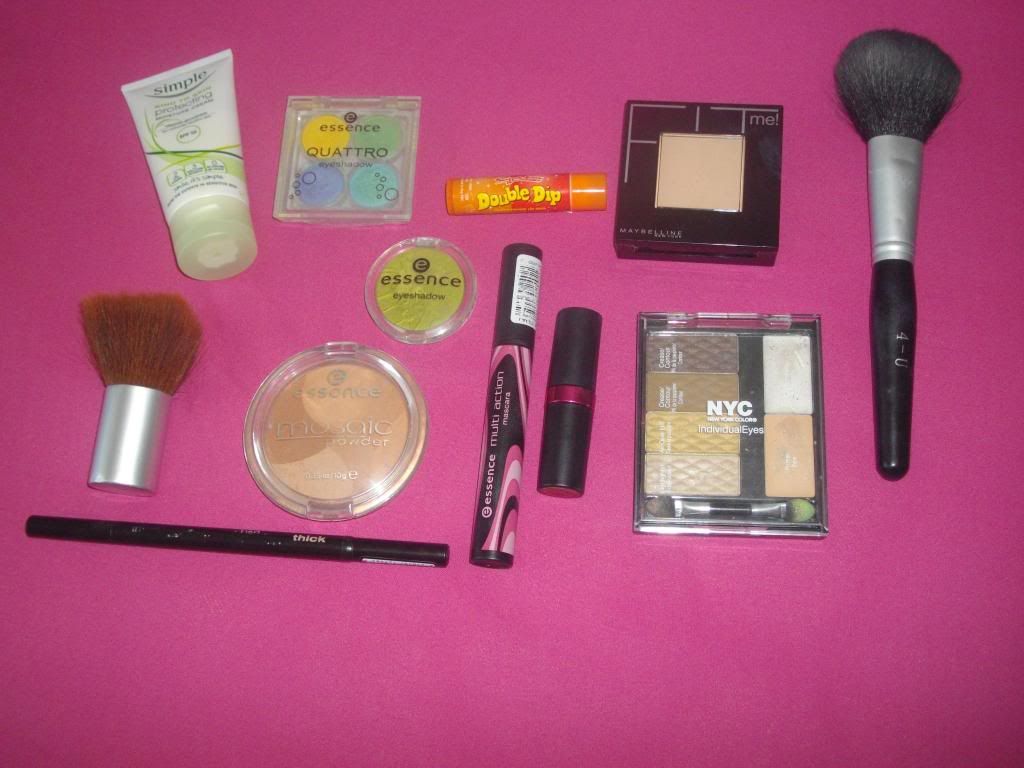 Clockwise : Simple moisturiser | Essence Quattro palette in 07 Party Animal | Essence eyeshadow in 60 Kermit Says Hello | Maybelline Fit Me Powder | Maybelline Fit Me concealer not pictured | 4-U powder brush | NYC Individual Eyes palette in Central Park | 17 Lasting Finish lipstick in Showcase | Essence Multi Action mascara | Essence 2in1 Eyeliner | Essence Mosaic bronzer | Random powder brush
I've all the products I use listed above so I'll just kinda list what I use just in case you're unable or feel too lazy to watch the video !
1. So first I dabbed some concealer under my eyes and on areas of breakout and then I set it with a dusting of powder. Lately I usually use Garnier's BB Cream first because it evens out my skin, etc. but this time I didn't.
2. I then used bronzer on my cheekbones and temple. I usually then dab it with tissue to blend and soften it.
3. Now for my eyes, I primed them first of all to give them a good base to sit on. I applied a lime green eyeshadow all over my eyelids, Then a yellow eyeshadow in my inner corners and a dark green eyeshadow on my outer corners and in my crease.
4. After that I applied black eyeliner and as usual I messed up a tad bit and I finished off my eyes with mascara and declumped it with my fingers because it went all clumpy.
5. Finally for my lips because I love colour on my lips, I applied the usual red lipstick and dabbed it down a bit.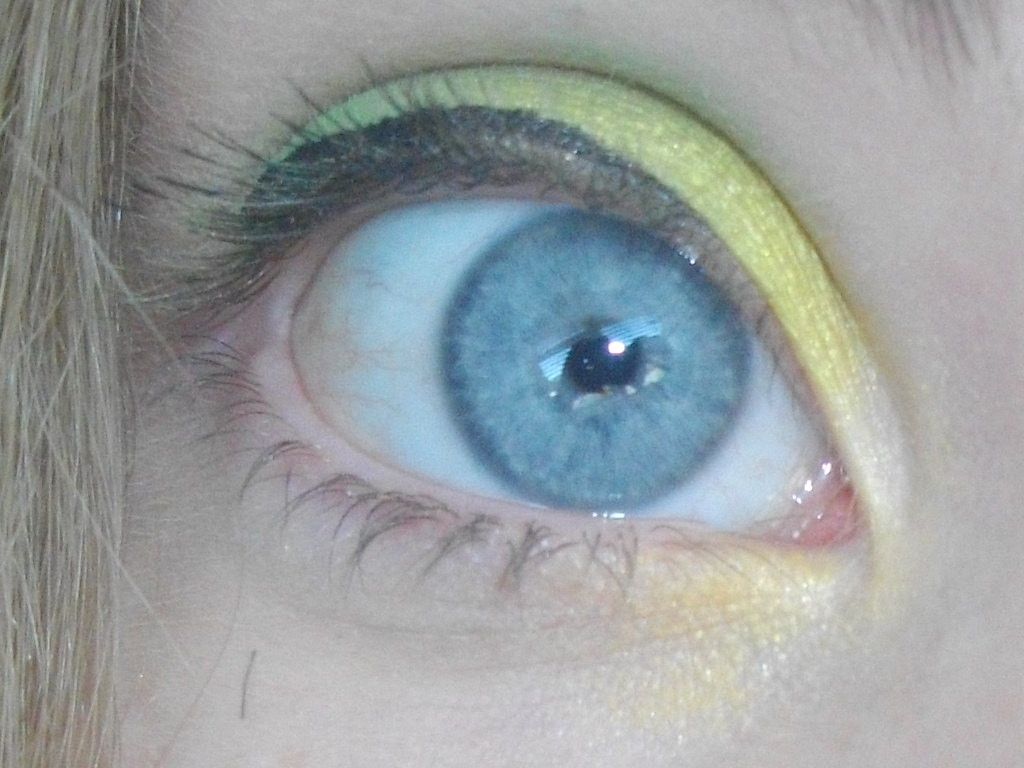 And above is the finished eye makeup close up in detail !
I hope you's enjoyed this blogpost and video. I'll be back over the weekend, In the meantime if you have any ideas on what back to school blogposts and videos I could do comment below please,
Grace x