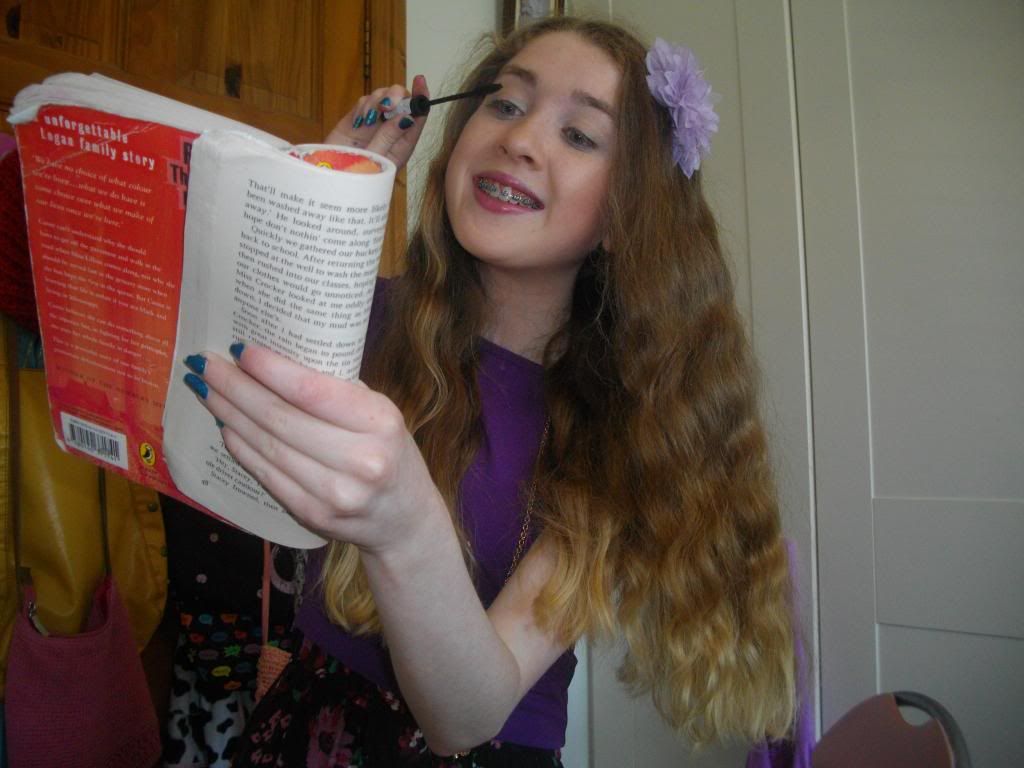 I look so young in this photo oops oops
Today I'm beginning my back to school series late which I'm very sorry about and I'm going to show you's how to achieve an easy light coverage makeup look and heatless curls. I've also filmed a back to school haul which I'll be posting during the week and I was thinking of doing a "no makeup makeup tutorial" which sounds like a tongue twister sorry but it's just a makeup look that it suppose to make you look like you're not wearing makeup so tell me if you'd like to see that.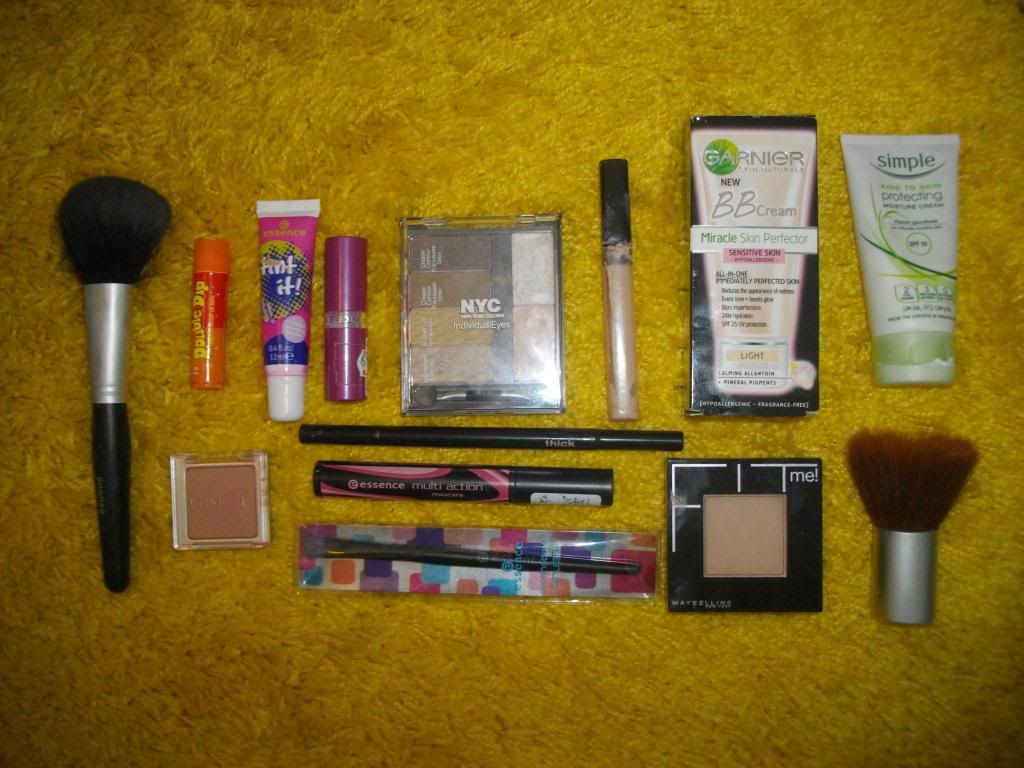 Clockwise : Random brush | Penneys lipbalm | Essence lipstain gloss | Essence lipstick in Sparkling Miracle | NYC Individual Eyes palette in Central Park | Maybelline Fit Me concealer | Garnier BB cream | Simple moisturiser | Blush brush | Maybelline Fit Me powder | Eyeshadow brush | Essence Multi Action mascara | 2in1 Eyliner | Clinique blush
As per usual the video for this tutorial refuses to appear on this blogpost so
click here
to watch it.
Here are the steps
1. First we're going to apply moisturiser and lip balm. The moisturiser can work as a primer if you apply it well before your makeup.
2. We're then going to apply BB cream. You can leave this step out if you want, but I find that I very light layer of BB cream gives a good base for my concealer and isn't heavy or orangey. Don't forget to blend some of it down your neck and right to the sides of your face to avoid streaks and lines !
3. Apply some concealer under your eyes and on your 'problem areas' i.e break outs. I try to pat concealer lightly on my spots rather than blending it in as it looks more natural not like I just shoved a heap of makeup on it ! To set your makeup, Apply some powder.
4. We're then going to do our eyes. You can use a primer or concealer to prime your eyes, Both are as good as eachother.
5. Apply a beige eyeshadow all over your eyelids spreading from the inner corners outwords and also apply some on your lower inner corners to make your eyes appear more awake. We're also going to apply this eyeshadow to all over our crease stopping below the browbone.
6. Then starting on the middle of our eyelids we're going to apply a gold eyeshadow out to our inner corners and on the bottom of our crease. Then blend altogether to avoid lines.
7. You can skip this step if you want but to finish off our eyes we're going to apply a very light line of eyeliner and the slightest bit of mascara.
8. For our lips we're first going to use a pigmented lipbalm or a pink lipstick that isn't very pigmented or bright and apply with a lip brush or our index finger. You can also set it with a bit of gloss or lip stain.
9. Now for hair, The night before I slept in two plaits. When I woke up, I took the plaits out and ran through my hair with a brush you could also use your fingers and this just gives your curls a more natural look.