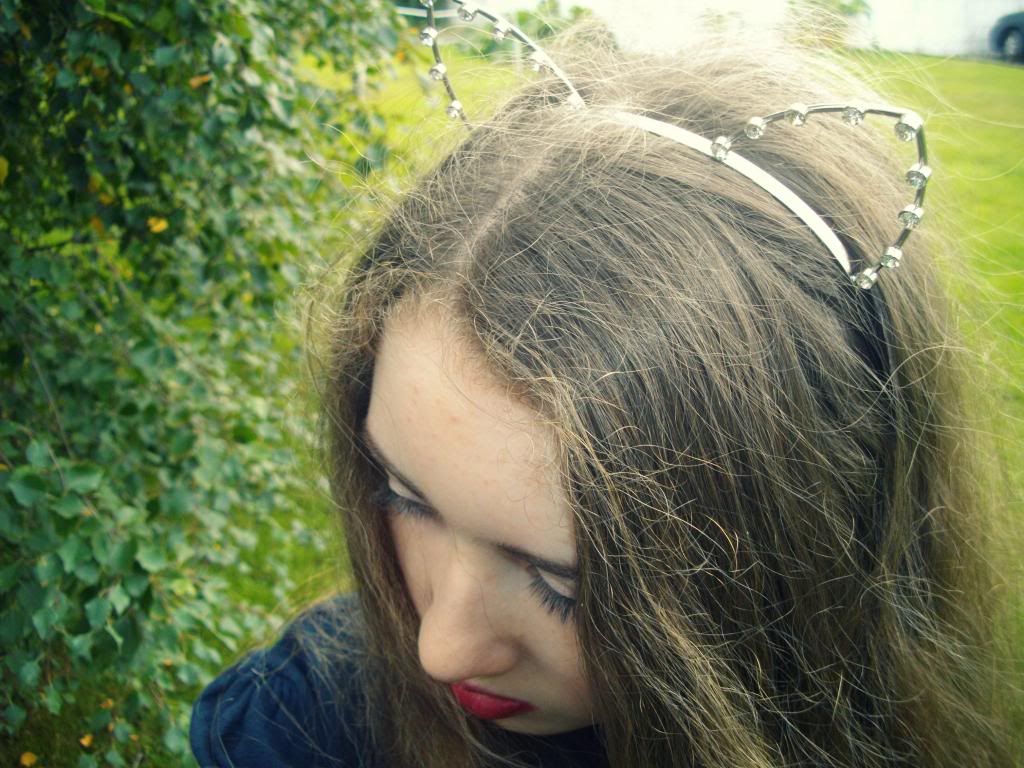 Penneys hairband | Penneys jumper worn back to front | Old blouse worn underneath | Topshop skirt | Dunnes doc boots
Lyrics : Unbelievers by Vampire Weekend
Although it's midweek, Today I thought I'd do a short ahem sorry long 'life update' post seeing as I've some spare time on my hands. The latter half of September has flew by so quick, I cannot believe it will be October this time next week considering the first half of September seemed to drag on but I guess people are right when they say that Third Year flies by which is beginning to petrify me ! I've had so many in-class tests I haven't had time to revise First and Second Year, etc. . Alot of my teachers don't use workbooks
(even though the school had them on our booklists.)
so I'm going to use workbooks to revise because I find that I study better reading aloud and then testing myself.
One - My school shoes they're so pretty I want to wear them the whole time
Two - I've been obsessed with owl necklaces lately not influenced by Bethany Mota obvv. Sarcasm.
Three - I've been wearing this H&M ring all the time it goes with every single outfit and gives an edge
Four - The shade Marinho from Maybelline's Colour Show nail polishes is perfect for autumn and winter
Five - I've been mixing these lipsticks 17 Long Lasting in Showcase & No7 Sheer in Sassy for a dark berry lip
Six - And finally I've been loving material shorts for autumn !
Since the weekend I've sensed a change in myself - I feel like I've become happier all of a sudden. I was talking to my mam yesterday about spirituality and stuff like that and all of a sudden I just thought wow, This time in a century unless I'm very lucky I won't be here on this planet, I don't know where I'll be but hopefully I'll be a ghost scaring the living daylight out of people. I know this sounds really weird but it was like a wake up call to me and I realised I need to start being more positive and living more. The amount of comments I get on here telling me that I sound like such a positive person never fails to suprise me because most of the time I'm the complete opposite - I've always been very negative and sad day in day out since I can remember and it seems to get worse as you get older and for me it is finally beginning to disappear ! I hate to say this cringe cringe cringe but 'YOLO'. That's the attitude I've been adopting it's been coming a while and it's finally arrived but I suppose what I'm trying to say is that I understand that if you're in a depressed state it's difficult to come out of it but if you even have a miniture opportunity in your day to witness or experience something positive you should take it and hold on to it and when you are down remember that tomorrow will always be better than yesterday !
Away with sounding soppy as for blogging, I cannot contain my excitement for October any longer so I hope you are all prepared for loads and loads of Halloween themed posts - I promise I won't bombard you with tons of Halloween talk ! There's Halloween stuff and even Christmas advent calendars in every pound shop and supermarket around town, I'm looking forward to buying some fake blood and face paint for my tutorials, All there's left to do is think of what to do a tutorial on. I have a collab coming up at some point during month with some of my Irish 'bloggy pals' and I'm also hoping to participate in
#Blogoween
. The Blog Awards Ireland Finalists is being announced next week so best of luck everyone and eyes toes and fingers crossed.
October is becoming a very exciting month that I'm looking forward to so I better go to bed and get some sleep so that I don't fall asleep in French first thing tomorrow morning !
Grace x