New Look jumper | Penneys skirt | Penneys blouse | School brogues | Forever 21 necklace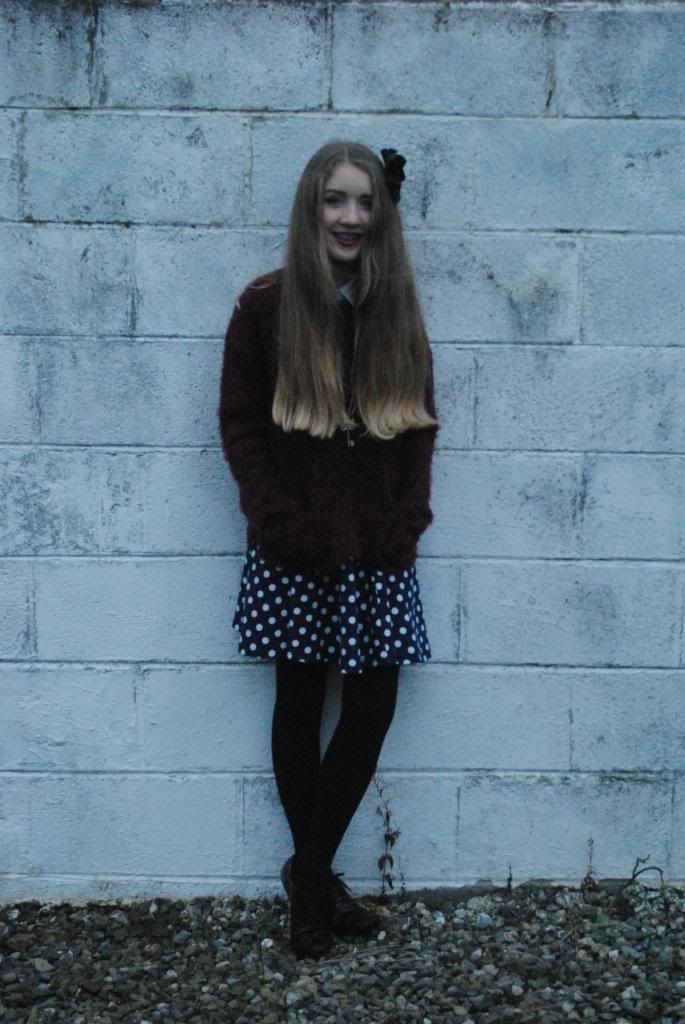 Lyrics : Attracting Flies by AlunaGeorge
Stolen from Aveen's blog !
A sloppy jumper combined with an A-line skirt, Blouse and owl necklace have sneaked their way into every autumn outfit I wear this year so when I saw all the jumpers in New Look yesterday they almost killed me they were so beautiful. It was 'love at first sight' when it came to this cranberry jumper - The photo does not do it justice ! It is honestly the fuzziest and most gorgeous jumper ever and when I tried it on at first I knew it would look brilliant with the polka dot skirt which seems to make a reoccurring appearance every time I go to the Chinese restaurant with friends.
And as you can gather from the photo's, We were at the Chinese restaurant for Aveen's seventeeth birthday yesterday evening -
Click here
to read Aveen's blog, It was a brilliant evening and the food and cake were so delicious.We almost went home blind because the flash on Aveen's camera was blinding but the funniest part was when the happy birthday tune unexpectedly starts playing over the speakers and everyone in the restaurant sings to her as the chocolate fudge cake was brought out to her, So happy birthday again to Aveen, I hope you had a great birthday !
I hope you's all have a brilliant luck and best of luck to everyone who's shortlisted in the Blog Awards Ireland as the finalists are going to be announced over the next few days - Eek !
Fingers, Toes & Eyes crossed,
Grace x