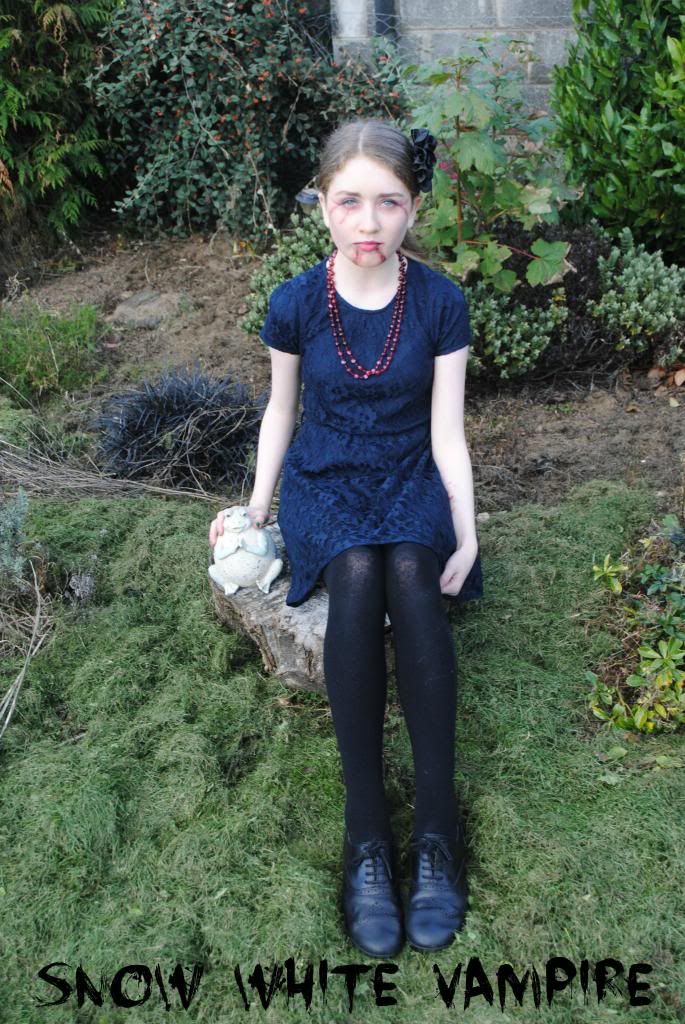 I'm so excited because I'm doing my first Halloween post of the year ! This is a collab with
Kate
,
Jane
and
Gaby
(Click on their names for links to their blogs.)
and we're doing horror blood centered look inspired by classic Disney princesses such as Sleeping Beauty or Ariel. Their blogs are amazing and their tutorials will be too so don't forget to visit their blogs and follow. Three of us did videos along with this and unfortunately mine only
uploaded on Sunday
after a week of trying to edit and now won't link to this blogpost but I will have it linked throughout this post, I'd recommend
watching it
for a better idea on what to do !
But on with the look ...
Today I'm showing you's a classic Snow White fairytale look - Plot twist ! She's really a vampire, Couldn't you tell ? So into my mirror I said "Mirror, Mirror, On the wall. Who would I like to be this fall ?"
"As red as blood, Dark as the night sky, Pale of the ghost"
"Oh yes !" I gushed to the haunted mirror, "It must be Snow White !"
The mirror told me, That with a few simple steps,
"Your wish will be granted, You won't need my help !"
You can read the tutorial in text
Or click on the numbers to
watch the video
!
1.
First we will will need a dark grey eyeshadow to apply all over the eyelids to give a cold dark look.
2.
Using a peachy blush, Begin applying under thee eyes and from the crease to the browbone to create a swollen effect. On the areas closest to the lower lashline and eyelid, Use a darker blush.
3.
To finish off our eye look, We're going to apply a thin line of eyeliner and a layer of mascara.
4.
Onto our lips, Apply a red lipstick, It can be bold or natural.
5.
Next we're going to apply a berry lipstick or lipgloss over the red to create an intenser look. The lip should get darker as we move towards the outer corners as we're aiming for an ombré effect.
6.
Finally for lips, Use a black eye pencil or lipstick if you have one and begin applying to the outer corners blending it in as we move towards the centre.
Onto the best part - Blood and wounds ! I'm combining dark neutral eyeshadows with fake blood for this. At this time of the year, You can buy fake blood at Supermarkets, Pound shops, etc. .
This part of the tutorial is quite difficult to explain, but I'll try my best. If you'd prefer to watching the application be sure to click on the numbers to watch the video.
7.
I'm first applying two thin lines of fake blood down either side of my chin beginning under the outer corners of my lips. You can use black eye pencil again for the transition of lips to blood. Keep applying to the bottom of your chin and slightly down your neck. The blood should sparser to give the illusion that it has been there for a long time.
8.
For a more realistic look, We're applying dark brown eyeshadow over the fake blood once it has dried.
9.
As you're reaching the bottom of the chin, Begin applying the peachy blush over the brown eyeshadow. The blood should start to slightly peal off but don't worry. We want it to look like this section of the blood has dried in, Being there for a long time and is beginning to bruise and scab.
10.
We're also going to apply the peachy blush to around the "wound" to create a swollen and irritated look. Use the deep blush on the areas closest to the blood as it should look the most irritated.
11.
Now we're going to draw a tear of blood running from one of our eyes - You can draw several tears running from both if you'd like ! We're going to repeat steps
8
&
10
although keep in mind that this is not a wound but running blood.
12.
Last for blood, We're going to create blood running from the outer corners of our eyes and you can create them whatever way you like, Using steps
8
&
10
once again. I created scars running through the blood as well using step
9
.
13.
Finally we're going to apply grey eyeshadow to our cheek bones to create the illusion that our faces are very cold and pale.
"Here's your reward for following my steps
Now you'll never eat dangerous apples again
Instead you'll be hunting the forest at night
Looking for traces of blood in sight"
As always, I hope you's enjoyed this tutorial and enjoyed
Gaby
's,
Jane
's &
Kate
's too.
I will definitely be posting more Halloween inspired looks between now and Halloween night so please request any spooky posts you'd like to see !
Grace x
FACEBOOK
|
EMAIL
|
INSTAGRAM
|
YOUTUBE