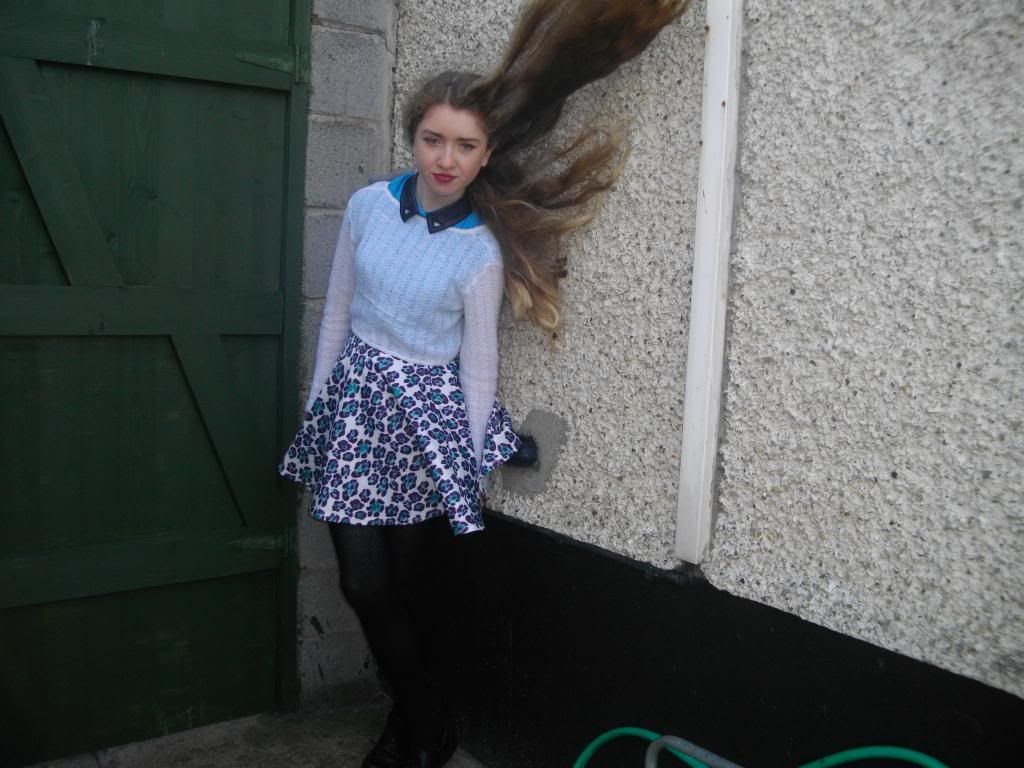 Skirt from local shop | Old cardigan worn back to front | Penneys blouse | School tights and brogues | Ladybird ring from local shop | H&M bottle-top style ring
Lyrics : Unbelievers by Vampire Weekend
Today myself my brother and my mam visited nanny as my uncle and baby cousin were visiting too and don't see them alot since they don't live nearby which is why there is a change of scenery ! It was freezing cold and we didn't actually realise how cold it was until we got out of the car and then my mam realised that we should've brought our hats.
I really love my outfit today although I felt extremely overdressed and overly white because almost the entire outfit consists of white ! I can't distinguish whether the pattern on the skirt is peacock or leopard print, but whichever it is, It is so beautiful and crazy so I kept the rest of the outfit less crazy and statemented with the cardigan back to front over the leather collared blouse which the blue by the way brought out the teal in the skirt so I felt clever. I'm also wearing my usual H&M ring because I feel like I glue it on at weekends
(I really don't I swear.)
and then the ladybird ring was an impulsive buy on Halloween, I'm sad to say. We were in a local shop and the ring kept staring at me and I kept staring at it so then after twenty minutes of roaming around the shop I went back and bought it because I felt bad if I abandoned it seeing as it mightn't have been there next time and I'd be like "nooo". Also by the way these photos were so difficult to take because the wind was being a cow so my hair looks like it's been egged on by a fan.
I don't have any interesting news to share with you's all except a teeny reminder that
#tbloggers
is on tonight from 8-9pm GMT. If you don't know what
#tbloggers
is, It is an hourly long chat for teenage bloggers
(although anyone of any age can join.)
each Saturday on Twitter and you can
click here
to find out more. It's a brilliant way to get to know other bloggers around the same age as you or with similar interests. I think I could be hosting this weekend and the topic choices to vote for are Christmas post/gift ideas or favourite products of all time so I hope to see some of you's there,
Grace x