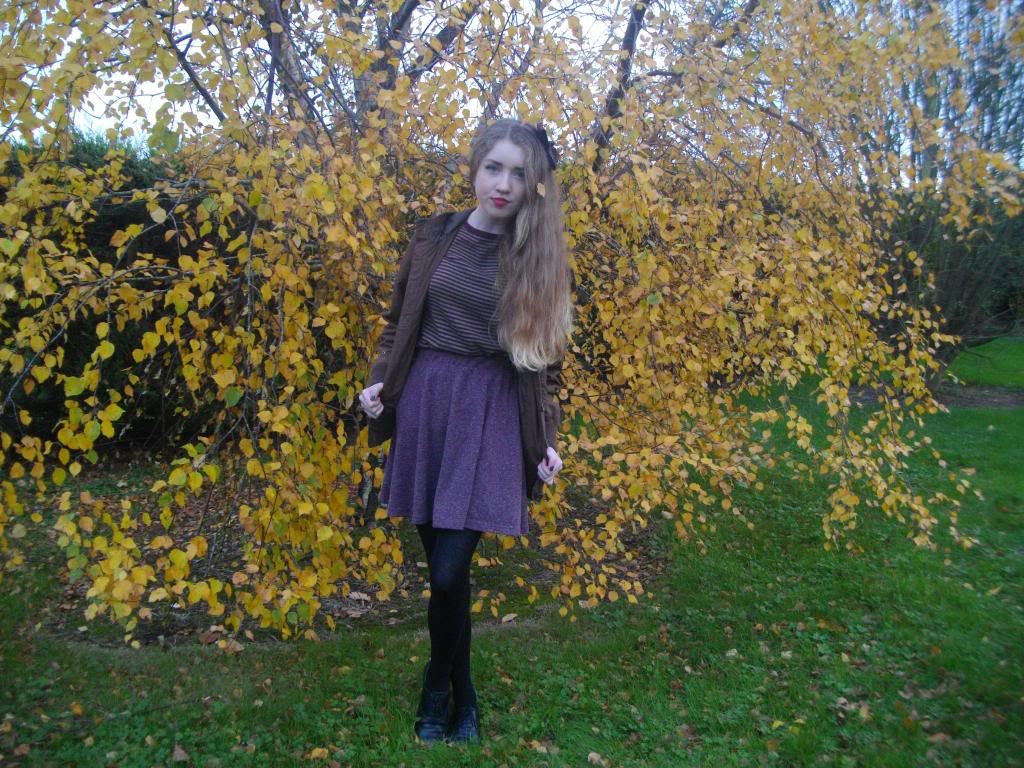 Top and jacket used to be my mam's | Topshop skirt | School brogues and tights
Lyrics : Somewhere Only We Know by Keane
I've been loving dark colours lately or basically anything that's close to black but isn't black. I only just realised now as I write this, but my entire outfit today is burgundy-brown. I was in a rush getting ready this morning and I thought this brown and burgundy striped top would look lovely with the burgundy skirt even though it was a bit light for winter but I wore them anyway and I think they looked quite nice with my red lipstick and the jacket. Wearing jumpers out rather than tucked in is on trend right now although this top was going to look bulky either way so I just tucked it in for less hassle bringing the trouble of creases and looking flabby which I think looks a million times better than if I was to leave it out. I love layering and now that it's getting very cold, I'm looking forward to wearing hats and gloves too so look out for them in upcoming posts because I will not be hiding them ! My makeup is very neutral. Like I said earlier, I was in a rush this morning so I've only concealer on, Neutral eyes with winged liner and a red lip !
We have a day off on Wednesday since the third and sixth year parent teacher meetings are on in the morning and then there's an open day for incoming first years
(Basically one of the teacher unions have regulations that they won't work outside school hours.)
so I'm going to take advantage of it and get lots of stuff done - I might even write a blogpost ! My Christmas Exams are from the 2nd-4th December so I'm going to enjoy the next seven days seeing as the week after this, I'll be studying for the exams and sure then after the exams we've only two and a half weeks left. I've lots of videos and posts planned to the point I don't know if I'll have the time to put all of them up ! I can't stand the fact that everywhere's been full of Christmas so far this month and every single TV advertisement is a Christmas ad meaning that in our house, Every time a Christmas ad comes on the television we switch channels !
By the way, What do you's think of the new header ?
Grace x