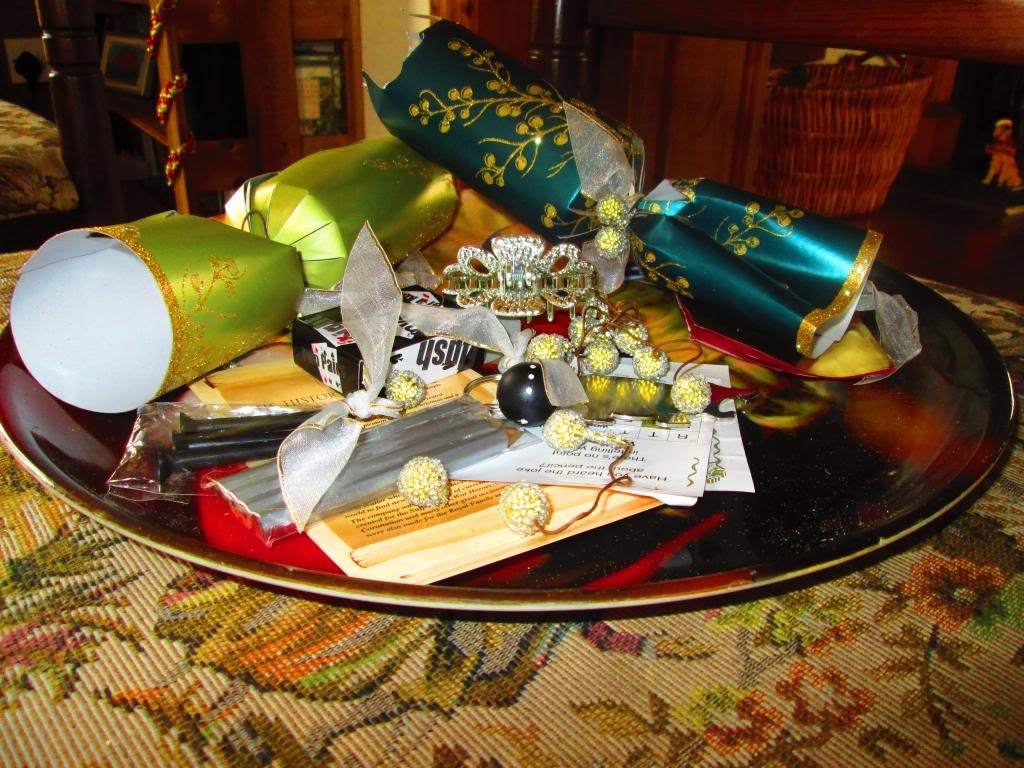 Since today is the final Dainty Sprinkles post for 2013, It seemed only right that I did some kind of annual roundup post even though I don't really enjoy celebrating the New Year ! The style of this post i.e month by month, etc. is inspired by
Tolly Dolly Posh's 2013 post
– Just saying incase it looks as if I copied, Oops.
For me, 2013 wasn't rather interesting or hectic compared to previous years such as 2012. In terms of blogging, My blog has definitely grown and I've also began making YouTube videos – Both I am very proud of. I've also gotten to know lots of amazing bloggers on Twitter – Especially through the
#tbloggers chats
. It's crazy since one or two of the bloggers I'd often be chatting to, I've been obsessed with their blogs for ages so when I first chatted to them I kind of fangirled !
WARNING I SOUND SO SOPPY NOW ALERT ALERT OH SUGAR ! Everyone in my family were in good health throughout 2013 which is more important than anything else and they still manage to put up with me which they deserve a thousand medals for because I can hardly put up with myself ! I'm so thankful to have a supportive family even though I don't always get along with them and I'm generally a pain in the a*se they support me through everything ! Not only that I also have the maddest of friends at school who I've gotten to know loads of other people through. On a personal note, I feel that the fun fun fun oul' social anxiety or anxiety in general has slightly began to improve over the past few months although I still manage to turn up at art class panicking for a whole forty minutes because I didn't have a large folder and then I lost my picture and I still don't know how to use the printer and everyone's talking and I'm just sitting there awkwardly like "lol definitely going to get that A in the JC. No not really." Or worse still is when I always reply to people having conversations in my head except then SOMETIMES I SAY IT OUTLOUD BY ACCIDENT LIKE WHYY ! Sarcastic mumble of "Why aren't you a lovely person" anyone ? Ok lets not begin talking about awkward school situations ! Happy New Year, Happy New Month, Happy New Day, Happy New Hour, Happy New Moment ! May the odds be in your favour although between you and me a little bird told me that it's going to be an awful year. Jokes. It will be wonderful. I hope.

I spent all yesterday evening making the month name e.g January edits and then putting all the photos in collages which is why this post is quite late so I hope you's enjoy and thanks so much for reading Dainty Sprinkles ! Lets begin the post with a celebratory llama dance !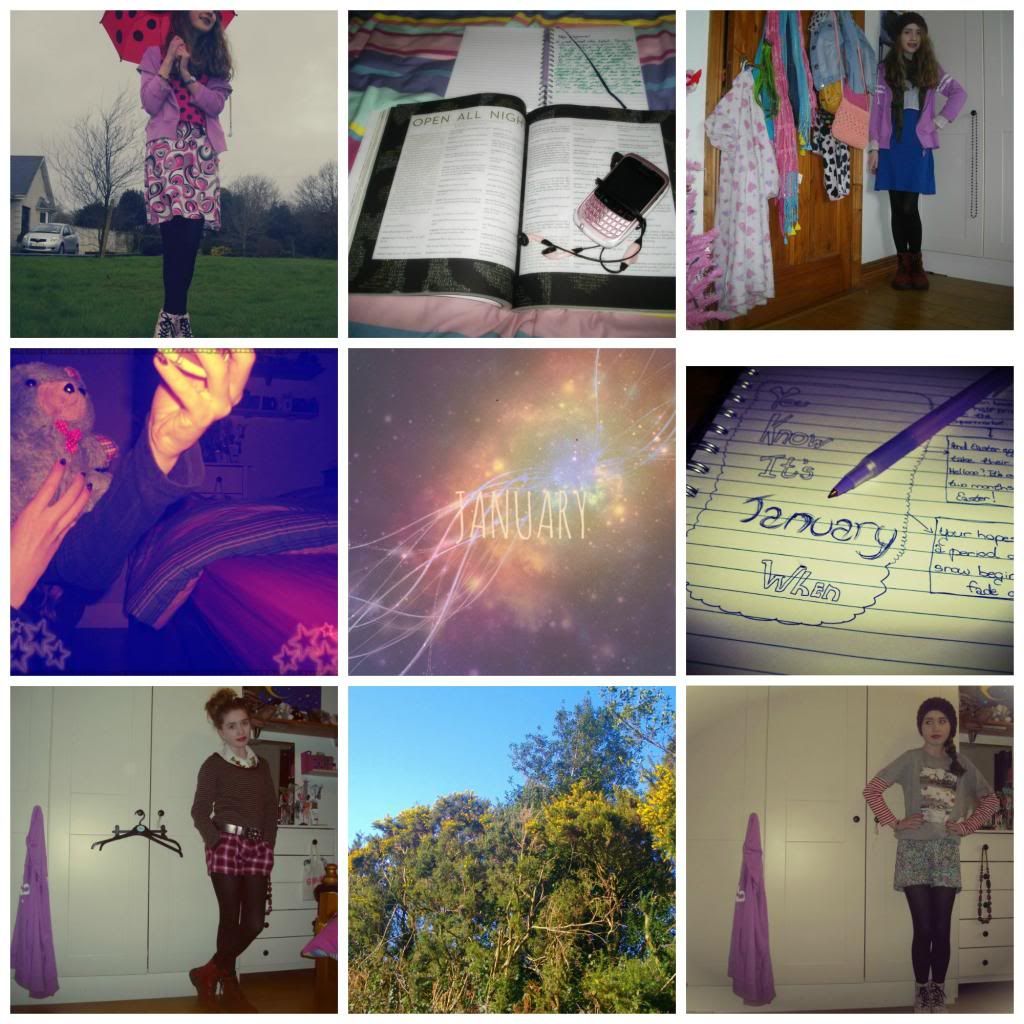 The Nighttime Distractions
//
Rarely Seen In Pink //
Burgundy and Gold
January was a great start to 2013 and strangely enough, I can say that I honestly love every blogpost I posted that month. I discovered photo editing and played around with different effects which were the making of posts such as
January Junk
and
The Nighttime Distractions
which are two of my favourite posts I've ever done because they were so fun to both photograph and write. They were inspired by the mysterious photoshoots in Rookie Yearbook One and the theme of
January 2012 'Up All Night'
. I loved all of my outfit posts in January especially
Rarely Seen In Pink
and
Burgundy and Gold
since they were all very full on in terms of patterns and textures. I began wearing more shorts which is something I hadn't really worn before but I discovered that they could be paired up with so many different pieces of clothing.
September wasn't very interesting here on Dainty Sprinkles since I was back at school and was too lazy to do anything at weekends but I did see the One Direction film twice which was pretty much the best film ever pardon the pun even though I'm not really a Directioner or anything. Dainty Sprinkles made the Blog Awards Ireland shortlist in the category "Best Youth Blog" I was so delighted and thankful ! It wasn't very cold in September so I took advantage and made the most of the kind weather when choosing outfits ! My favourite outfit post of September was "
In between the lines Is the only place you'll find What you're missing But you didn't know was there
" as I loved how the burgundy colours looked against my straight ombré hair, The outfit was quite different to what I'd usually wear.
October was one of my favourite months - If not my actual favourite month of the year ! I got into the spirit of Halloween, Filming lots of makeup tutorials for my YouTube channel which I've since been using for my Art project for the Junior Cert.
Aveen
and I filmed our first Awkward Sprinkles video and drank cola out of Starbucks mugs because we're fabulous. No, Not really. Another collab I did was scary alternative Disney princess tutorials with
Gaby
,
Jane
&
Kate
. I did a vampire Snow White and it turned out exactly as I'd hoped for. I also did a makeup tutorial inspired by Lorde's 'Tennis Court' music video and took tons of photos surrounding Halloween decorations and sunsets. On the day of Halloween I went into town with my friends Aisling and Vivien and I did Aisling's makeup - We both went as some kind of vampire zombie and received lots of odd looks whilst walking down the main street.
November was a bit of a boring month which resulted in taking two days off in one week - One was designated like the whole school were off for the parent teacher meetings and the other was on the Friday to go to Crumlin because I got an appointment for my scoliosis and it turned out that my spine had a curve of 39 degrees meaning I had to do daily exercises which I've been trying my best to do - I began doing them properly on Sunday. My favourite outfit post of November was "
Got a little soul The world is a cold cold place to be
". I loved the cold colours of purple blue and white plus the wind made my hair appear crazy ! I also love the rings I wore - They're my favourites !
December is of course the most recent month to document and it hasn't been a bad month. We had our Christmas Exams the first week of the month so I wasn't under alot of pressure the rest of the month but I had alot of work to do in subjects such as Art.
Aveen
and I filmed another AwkwardSprinkles video - This time a Christmas themed ramble and Aveen managed to photobomb at least half of the Christmas decoration photos I took ! I participated in
Jane
's
#ChristmasBloggers
series which was a lot fun since I had an excuse to take lots of Christmas-sy photos. Since my camera broke, I used my mam's big camera for the month of December which was the best thing ever and now I miss not having to worry about photos messing up because of my shaky hands ! We also had a nonuniform day in school which nobody expected ! The last week of school was brilliant not only because my friends & I did Kris Kindle but I put up tinsel on Area Four stairs where we sit by every day at lunch which particularly mortified my friends Chyan, Emma and Mary and then Aisling, Vivien and I wore santa hats ! On the weekend of Christmas, My family and I went out for dinner and then we went Christmas light spotting which was hilarious ! On Christmas Eve, My mam and I got our hair done in the hairdressers and myself and Mai/Lucy Santa tracked Santa. I had a lovely Christmas Day with my family but I preferred the build up to the Day itself.
If you want to read every posts from each month of 2013 here's the links
|
January
|
February
|
March
|
April
|
May
|
June
|
July
|
|
August
|
September
|
October
|
November
|
December
|
And for my 2013 playlist !
Thank you so much for reading Dainty Sprinkles during 2013 - Whether you only began reading it today or you've been reading all year or even before that ! I can't even find the words to describe how happy blogging and YouTube makes me and the fact people enjoy my fashion and makeup rambles makes me even happier so thank you !
Happy New Year and I hope 2014 brings you great luck and happiness,
Grace x
FACEBOOK
|
EMAIL
|
INSTAGRAM
|
YOUTUBE