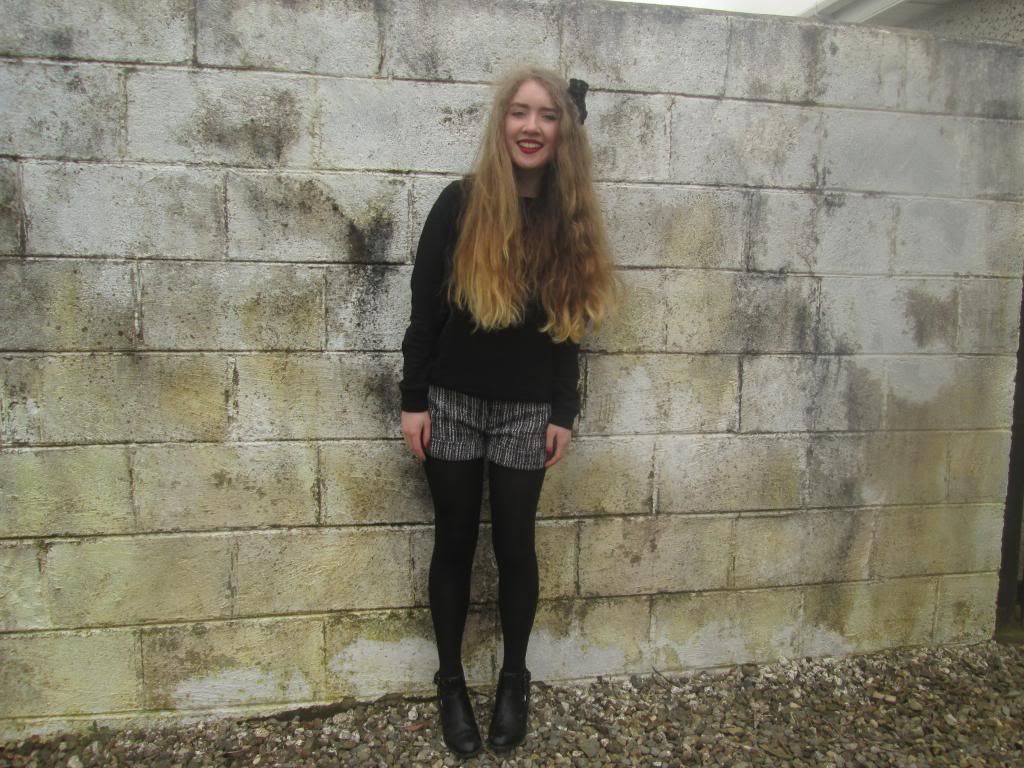 New Look jumper | Dunnes Stores shorts | Tesco boots
Initially this morning, I was wearing all pink and then I changed and wore all monochrome instead so I'm definitely very colouful today. The only bright colour I'm actually wearing is my lipstick and even then that's pushing it since it's quite a dark shade. I'm considering wearing this on St. Patrick's Day to be ironic with all the colourfullness and green ! I don't like the colour black itself but I do love black clothing. There's something effortless yet dressy about the black clothes and it is almost like a colour in the centre of a palette, The colour that looks good with every colour. At the moment, The shorts I'm wearing are my favourite as they're a decent length i.e not too long or not too short and they're also very warm and cosy ! I also love the black and white pattern with the glitter - It reminds me of barcodes !
Today is International Women's Day and this year's theme is 'Inspiring Change'. I'm very into gender equality and feminism
(I wrote almost a page when answering the women's rights question on the history mocks that was only worth six mocks because I'm that ridiculous.)
and that even though gender stereotyping unfortunately still exist, In the western world today and every day we should remind ourselves of how lucky us women are to have equal rights to men such as being entitled to a full education or to vote in elections or driving a car or having the choice to work in or and outside the home if we get married and also be thankful for the suffragettes who fought for and in turn won us these rights. I think this day should also be taken advantage of to raise awareness of the need for equal rights in countries that don't entitle women to the same rights and education as men. Hopefully in one hundred years time, Change will have happened in all the countries that change hasn't occured in already and some if not all of those countries will give everyone equal rights and education regardless of gender.
Grace x