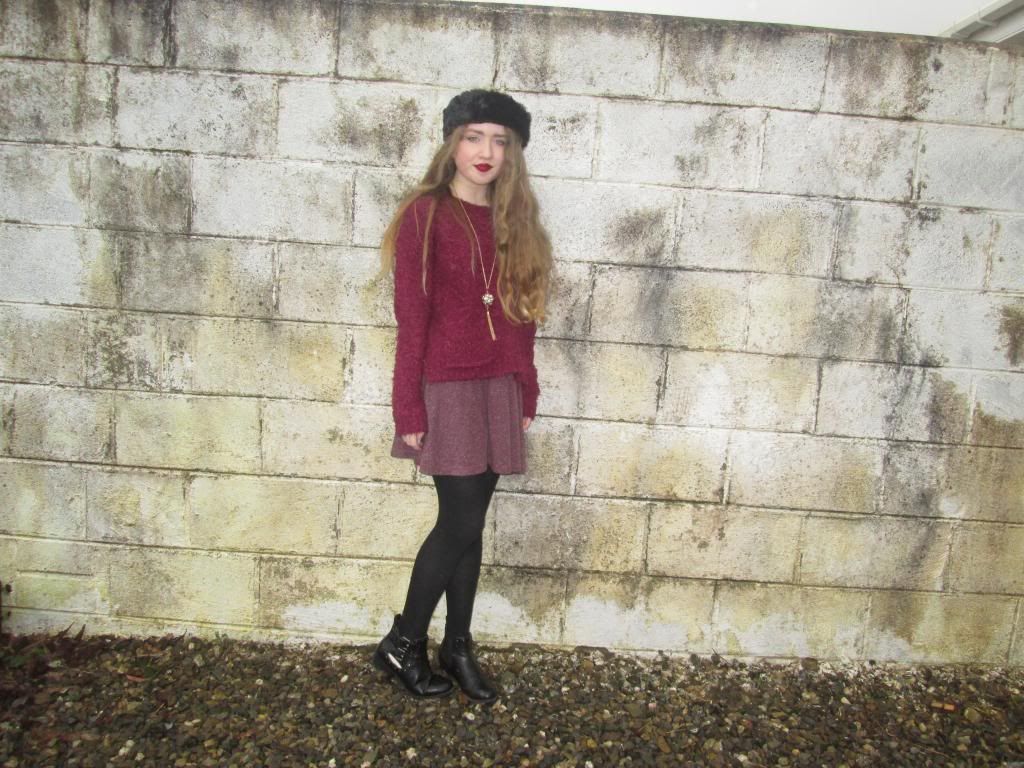 New Look jumper | Topshop skirt | Dunnes furry headband | Roam necklace | Tesco boots
Lyrics : Home by American Authors
It's finally March so I feel like spring has arrived if you ignore all the rain that feel over the weekend, We've been having fairly nice weather here in Ireland - I like the blue skies. March is an exciting month because it's my brother and I's birthdays, Plum and Truffle's birthday and also St Patrick's Day which is just an excuse to meet up with my friends and eat an abundance of chocolate whilst having a shower and a half because every single year it rains and rains until there's no rain left at 3pm just as the parade starts ! My music practical and French & Irish oral exams are also on during this month so guess who's going to spend the month pretending they can speak as gaeilge !
Yesterday I looked all matching by accident because I was wearing a burgundy skirt a burgundy jumper and burgundy lips. I kind of end up wearing all my hats or basically any accessory or makeup that I cannot wear to school during the weekend so yesterday was spent taking turns wearing this furry headband and the hat with that flower on the side - Both our my favourites and it kills me that I can't cover my head with them during the weak especially if my hair looks slightly greasy oops. I've also been loving this burgundy skirt lately since I can get away with the light material now that it's ever so slightly warmer and it looks good with practically everything since it's plain and dull so keep an eye on my YouTube channel for a "How I Style ..." video.
I've never been into music, but recently all I seem to do is listen to music and a few weeks back I discovered the band American Authors and I just love their music so much ! Their music sends out such good vibes makes me feel so happy to the point there's not one song I dislike but my favourite songs are Home, Think About It, Heart of Stone and Love. I'm listening to 'Heart of Stone' right now as I write this and you should definitely look up their music it's brilliant and their album's out tomorrow *cough cough birthday present idea if anyone in my family reads this cough cough*.
I cannot believe it's Sunday again already but I'm looking forward to another week of school because I don't work well without routine. The low amount of homework can stay at the same level as last week but the level of awkward situations can drop and basically disappear altogether. I'm wondering why I even wrote that. Anybody who wants to teach me how to hold a conversation for more than thirty seconds or how to talk in general feel free to do so - I will love for '*five-ever* !
"Quit
talking
total nonsense to strangers... actually, quit
talking
,
full stop
."
- Bridget Jones.
This kind of explains my life.
Grace x
FACEBOOK
|
EMAIL
|
INSTAGRAM
|
YOUTUBE